After reporting earnings on the evening of April 24, Baidu (BIDU) dropped 10% or so in after-hours trading. By the time time trading opened the next day that loss was cut to just 4.5%. At the highs of that day, BIDU actually managed to recover all its post-earnings losses. I typically characterize such a recovery as quite bullish. However in this case, BIDU ran right into its 200-day moving average (DMA). It closed on April 25th just below that line of resistance. BIDU has yet to close above that line despite three other days where it traded briefly above resistance. Although the last two days of selling were on very low volume, further downside now looms given BIDU's inability to generate buying interest above resistance.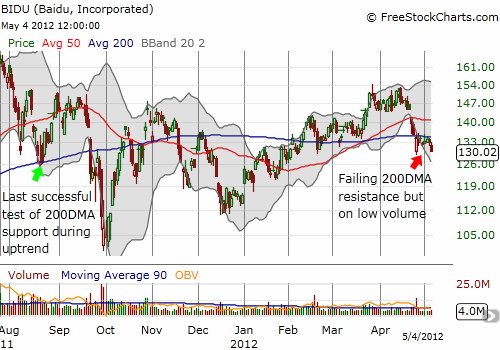 Source: FreeStockCharts.com
BIDU's chart has some other interesting features. In August, 2011, BIDU made its last successful retest of 200DMA during its past uptrend. When BIDU next traveled to the 200DMA, it broke support and almost traded back to $100. While that was not quite a low for the year, the plunge was quite rapid. Fast forward to today and BIDU has now spent more time below the 200DMA than above it. If the stock does not reclaim the 200DMA as support soon, I am expecting an extended trip to more downside with a target around $110 at the lows of December, 2011.
Be careful out there!
Full disclosure: no positions