Two weeks ago, Yelp.com (YELP) confirmed its blow-off top with a break of critical support (see "Chart Review: Yelp.com Confirms Blow-Off Top With A Break Of Support"). That support immediately turned into resistance. After dropping close to post-IPO lows, YELP bounced, only to stop cold at resistance. After reporting earnings, YELP dropped 12% directly from resistance.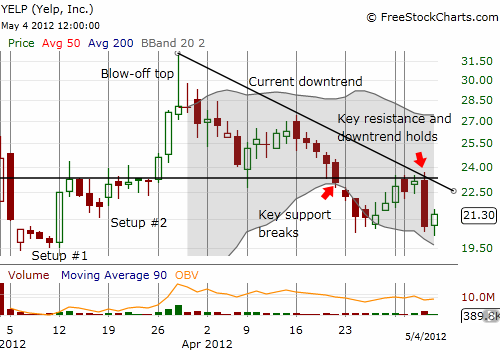 Source: FreeStockCharts.com
The good news is that this line of resistance gives us a relatively confident buying line. If YELP manages to close above this line, it should be worth a trade on the long side. However, I highly doubt YELP will pull off such a feat. Instead, I think slowly but surely it will decline to its IPO price of $15 and drop further from there. YELP's valuation is far too high for a company in such a highly competitive market with such small sources of revenues: forward P/E is 304, price/sales is 15, and price/book is 11.
Be careful out there!
Full disclosure: no positions