Rare earth producer Molycorp (MCP) appears to be on the edge of another big move. A Bollinger Band squeeze is again forming around the stock. A squeeze occurs as volatility decreases, and it typically leads to a burst of higher volatility in the form of a strong move up or down.
The chart below uses arrows to point to examples of recent Bollinger Band (BB) squeezes. Note how each one preceded a significant move.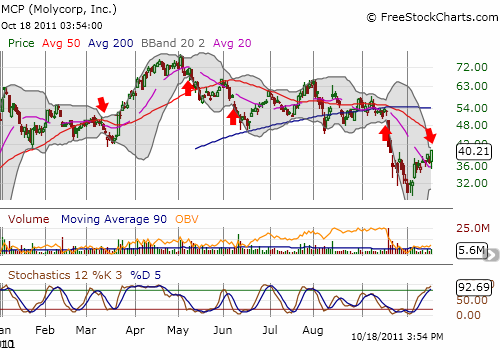 Source: FreeStockCharts.com
Unfortunately, each BB squeeze has preceded substantial downside in MCP. The last one was particularly virulent, preceding a 38% loss before the stock's losses finally ended. This time, overbought stochastics and a downward sloping 50-day moving average (DMA) support the case for another bout of the downward blues for MCP. Accordingly, I bought fresh puts (November expiration) to protect my holdings. I will sell the put if MCP drops significantly.
(Click here for a archive of previous articles on Molycorp).
Be careful out there!
Full disclosure: long MCP shares and puts