For six days, Netflix (NFLX) appeared to have printed a bottom at $125. On Thursday, NFLX broke that critical support and plunged 11% to close at a new 52-week low. In the process, the stock also tagged $110 which was a price target established by a bearish analyst at Noster Capital. Unfortunately, Thursday's action suggests that substantial downside risk remains.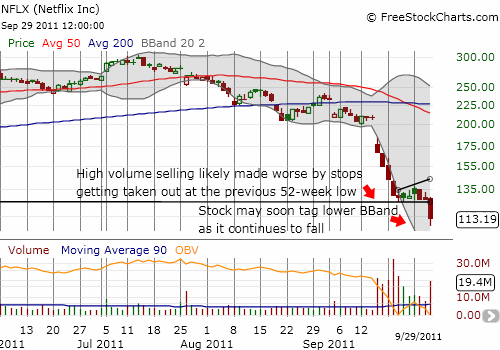 Source: freestockcharts.com
Two weeks ago, I made the case for further downside in NFLX because of continued negative news flow and a very poor close on a day where NFLX dropped 19% in one day on extremely high volume. Thursday's selling represents more of the same. This time, the negative news flow came in the form of Amazon's announcement of a low-cost tablet, called the Kindle Fire
, that includes the ability to stream movies. The chart above shows the a small amount of buying happened to take the stock off the $107 lows. However, the ability of the stock to continue selling off on extremely high volume demonstrates it is likely to quickly tag the lower Bollinger Band (BBand) again on its way to lower prices. For more fundamental reasons explaining why NFLX could resume its downward momentum see "Netflix Drops 11%: Risk Of A Downward Spiral?" by Tiernan Ray in Barron's.
Given NFLX has now lost about 2/3 of its value in less than three months from its all-time highs, one must wonder whether NFLX has suddenly become a value play. At a forward P/E of 17, NFLX is cheaper than it has been in a very long time. The stock is also trading at 2x sales but at 18x book value. So, overall, the valuation story looks mixed. Moreover, CEO Hastings Reeds remains a constant seller with an automatic sell program that has dumped stock for years. Once he or other executives turn into buyers, the bullish case for NFLX will get much stronger. Until then, substantial downside risk remains.
Be careful out there!
Full disclosure: long AMZN puts