Gold is suddenly just about the only asset that is working in financial markets. This fact will likely ignite a positive feedback loop that will send gold parabolic in a matter of time. In "India Gold Imports May Reach a Record", Bloomberg provides some great statistics from various sources that seem to add weight to my expectations. Here is my summary:
Indian imports may be between 950 metric tons and 1,000 tons this year.
Consumption in India rose to a record 963.1 tons last year, driving bullion imports to the highest ever at 958 tons.
Purchases by India, the world's biggest user, surged 60 percent to 267 tons in the three months ended June 30, from 167 tons a year earlier.
Indian investment demand jumped 78 percent to 108.5 tons, the second-highest quarter on record.
Holdings in exchange-traded products touched a record on Aug. 8.
Central banks are adding to their reserves for the first time in a generation.
Central banks added 155 tons valued at about $8.18 billion to reserves in the first five months of the year and will be net buyers next year.
Here is the latest chart of the S&P 500 versus gold to further emphasize the point that gold is looking increasingly attractive, especially to those who chase performance: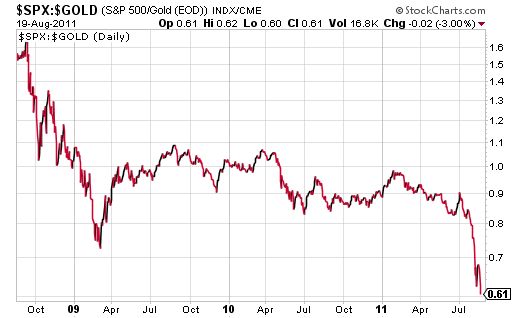 Source: stockcharts.com
Here is the longer-term chart I created in February in "Priced In Gold, the Stock Market Continues to Struggle":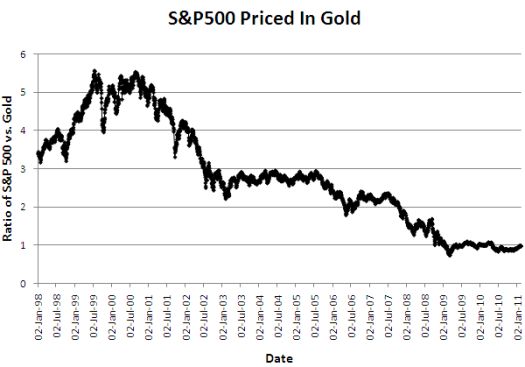 Next up, more commentary from Ben Bernanke on loose monetary policy at the Jackson Hole Economic Symposium later this week! Bernanke is certainly now under a lot of pressure to "do something" now that the stimulus from QE2 is fading fast and furious. Look out below of he disappoints.
Be careful out there!
Full disclosure: long GLD, GG