Today, Pan American Silver Corporation (PAAS) issued a press release confirming my earlier assumption that its mining operations in Bolivia would not be impacted by the Bolivian government's efforts to further nationalize its resource industries (see "Despair Deep in the Silver Mines: Another Opportunity to Buy Pan American Silver").
"On May 1, Bolivian President Evo Morales announced the formation of a multi-disciplinary committee to re-evaluate several pieces of legislation, including the mining law. However, Mr. Morales made no reference to reviewing or terminating agreements with private mining companies. Pan American operates the San Vicente mine in Bolivia under the terms of a joint-venture contract with the state-owned mining company COMIBOL.

Operations at San Vicente have continued to run normally under Pan American's administration and were largely unaffected by the media reports referenced in the Company's April 19 press release, and the Company expects normal operations to continue status quo.

The Company would like to acknowledge and thank its employees and contractors in Bolivia, the San Vicente union, the surrounding community leaders and the local authorities who unilaterally expressed their support for Pan American's continued activities in Bolivia."
I highlighted the last part of the press release as a reminder that PAAS has top-quality management and enjoys excellent relations in the communities in which it operates. This is a very valuable asset to have in this business, and it likely insulates PAAS from all sorts of potential trouble.
I used the initial swoon to start buying back into PAAS. PAAS has declined further as silver's momentum has hit another speed bump. To most silver observers, I am sure the wall at $50/ounce comes as no surprise. Not only does that level represent all-time highs, but even Silver Wheaton (SLW) noted that it might start hedging its silver exposure at $50/ounce. I have not yet decided where to pick my next spots in silver plays, but the chart below shows that PAAS is testing the 200-day moving average (DMA) support line. Recent trading history shows that the stock tends to dip slightly below that support before bouncing again.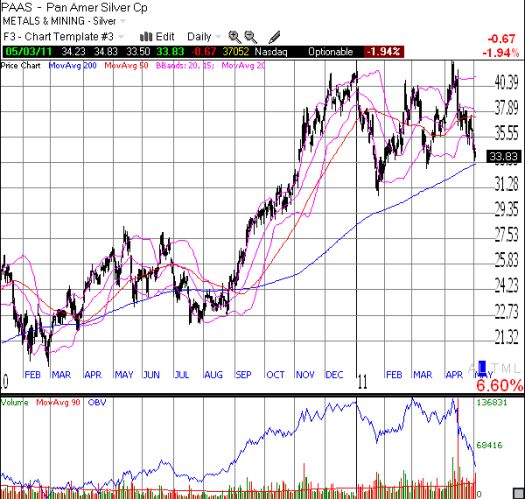 *Chart created using TeleChart:

Silver is already approaching a 20% correction – a typical oversold extreme in a bullish uptrend – but I am looking for a retest of its 200DMA to start buying the iShares Silver Trust ETF (SLV) again (I also started looking into buying the real thing!).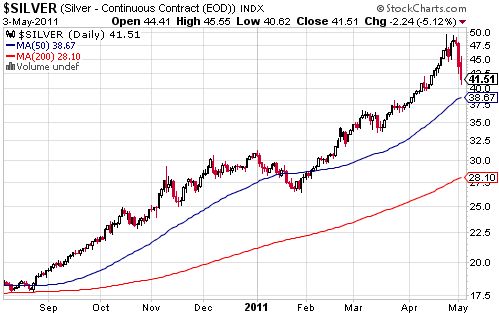 Source: stockcharts.com
Be careful out there!
Full disclosure: long PAAS