Schaeffer's Investment Research is reporting today that the Macau IPO for Wynn Resorts, Limited (WYNN) has been meet with heavy put buying the past two days. October 65 puts were popular yesterday and the bearish trading has extended to the 60 strike today. The option strangle trade I outlined last week on WYNN uses the October 65 put. Despite weighting the trade toward the bearish side, the overall position remains flat given time decay (I did not track implied volatility). With two weeks to go until expiration, this position will need WYNN to follow-through on its breakdown from consolidation (see chart below from mid-afternoon – WYNN ended up closing with a heft 8% loss) in order to get profitable. Without further progress by next week, I will be rolling this position out to the November expiration.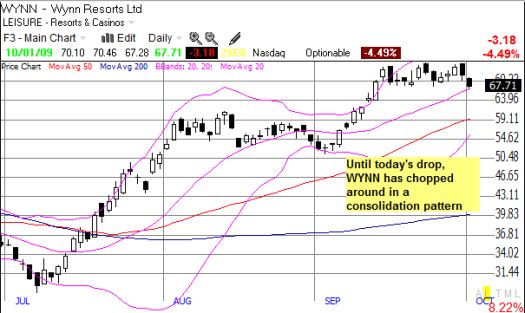 *Chart created using TeleChart:

Be careful out there!
Full disclosure: long WYNN puts and calls