Dancing With the Stars Review: Kim Performs An Elegant But Controversial Dance!
Dancing with the Stars (DWTS) Season #22, Episode #5 was the "Switch-Up" show…and apparently the exceptionally critical and technically correct episode! Bottom-line: Kim performed an elegant dance, but it apparently did not meet up to the standards of the Viennese Waltz she and her partner for the week, Keo Motsepe, were supposed to do.
The public voted in Keo for Kim's dance partner for this Switch-Up week. Their task: dance the Viennese Waltz.
See @keodancer & I dance Mon night on @DancingABC! What should our team name be? #DWTSSWITCHUP!!! #DWTS #TeamKimsha pic.twitter.com/TdeDkVBB0N

— Kim Fields (@KimVFields) April 17, 2016
I honestly do not like the Switch-Up episode. The celebrities spend weeks developing chemistry with a partner and then abruptly have to break their momentum and learn a new teaching style. Sometimes the difficulty in transition shows in the performances. In this episode, the difficulties showed with the number of professional partners who decided to take liberties with the traditional dances. They seemed to try accommodating what they saw as limitations they might not have worried so much about with their regular partners. The result for Kim and Keo was that Keo introduced a Waltz that was far from Vienna! More on THAT later…
I LOVED the dance. I am glad I am not encumbered by a professional knowledge of what should and should not be! Kim's expressions were powerful from the start. You could SEE her energy fully invested into the dance. This was a passionate dance that Kim executed beautifully. Too bad it was not a Viennese Waltz, but I loved it nonetheless!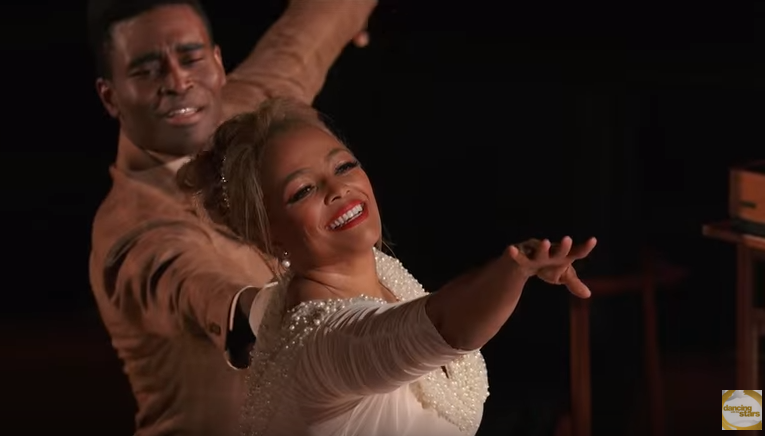 Joining the judges as a guest was former DWTS dancer Maksim "Maks" Chmerkovskiy. He was a perfect compliment to Len Goodman. Together, the two rained on the parade of the celebrity dancers and their partners who decided to take liberties with their dances. It made for quite a contentious show that I am betting will stir up some controversy for its fits of acrimony. The technical teardown began right from the start with Wanya's performance, so hopefully Kim braced herself a bit.
Guest Judge Maksim "Maks" Chmerkovskiy
Maks started the judging by admitting this was a hard dance to judge. He described the performance as beautiful and the dance as lovely. BUT, he lamented that the dance was NOT a Viennese Waltz – it had maybe half a step. You could see the smiles freeze and flop on Kim, Keo, and the audience. The camera cut to Sasha, Kim's regular partner, pacing bouncing nervously back and forth as the critique rolled on.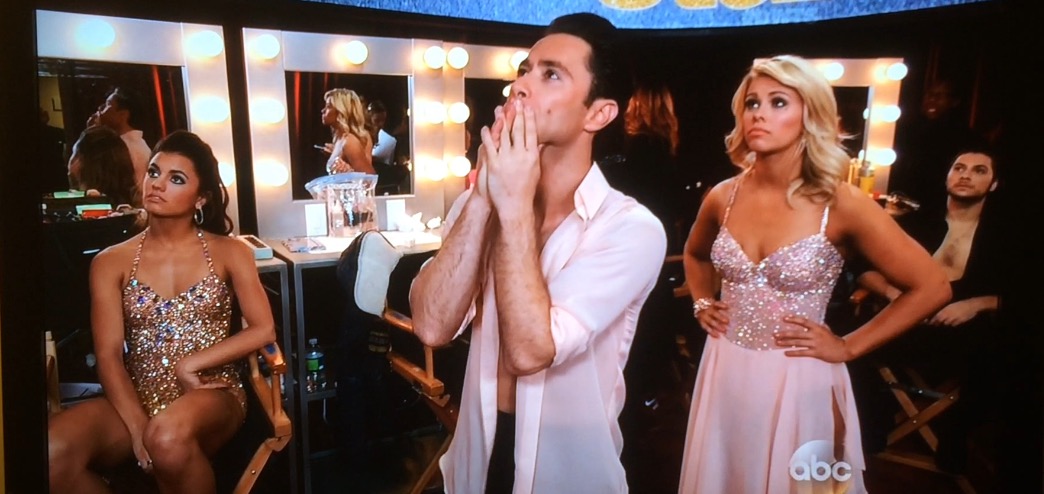 Maks even said he could not criticize the frame because there was no frame. He ended his disappointment by halfheartedly throwing up his hands. Wowza. (Note further – I did NOT appreciate Maks taking the opportunity to dig at Keo and Kim one more time when contrasting their performance to the performance of his fiance Peta Murgatroyd and Doug Flutie who stuck to the traditional form of their dance.)
Score: 6
Judge Bruno Tonioli
Bruno was much more charitable. He threw tradition out the window and just applauded the dance for what it was – simply beautiful! Bruno called it a series of beautiful pictures in a mounted mantle (or at least that's what I think I heard through the constant chatter of my kids!). He proceeded to lean over Maks, stroke him, and asked him to be gentle. I guess he was trying to reset the tone! Bruno reassured Kim that she was absolutely "on the money" with the interpretation of the dance. He concluded by describing the technical details that should have been included in a Viennese Waltz. Score: 8
Judge Carrie Ann Inaba
Carrie Ann was excited to see a whole other side of Kim. She said the judges don't expect everyone to dance the same way as they did with their regular partner, but they want to see something new. Carrie Ann noted a steamier, more sensual, more dramatic side of Kim. This was the side of Kim she was waiting to see. Carrie Ann loved seeing this side. She even called the dance "delicious"! Score: 8
Judge Len Goodman
Len fooled me. He was smiling at the end of Kim's dance, and I thought he loved the dance as much as I did. I should have known better given the cocked, leaning head resting on a fist! He ended the judging round by bringing everyone right back to earth. He thanked Maks for his critique and then layered on his own. Len asked point blank "Why not ONE step in a hold!?" Len griped that the Viennese Waltz is about rotation, it's about movement, it's about natural reverse turns.
The criticism was so deep, Len commanded a response from Keo (who is the knowledgeable person responsible for the interpretation of the dance!). Keo explained that a hold looks very small between him and Kim. He contrasted the hold with a separation that looked "very big." Len was clearly not amused. He launched into an analogy… Dancing is like a car. He likes the thing to move on, but you have to look in the rear view mirror and see what's been. He complained that what's been had nothing to do with the Viennese Waltz. Carrie Ann stepped in to try to defend the performance. At THAT point, amidst resounding boos from the audience, Tom Bergeron interrupted the arguing and went straight into the scoring. Score: 6
Whew! I am exhausted just recounting all the drama and controversy! The scores were notably divergent and reflected the sometimes heated debate.
So, here is YOUR chance to give your own score for Kim. It is too late to send in your vote to the show, but you can rate her here in THIS poll. (PLEASE get your votes in on time NEXT episode!)
The polling will stay open until Sunday, April 24, 2016, right before midnight.
Click on the number of your choice and then click "Vote." Note that your button may be gray with the letters grayed out as well…you can still click it.

[poll id="6″]

In the future, you can vote for Kim in THREE ways…
Call: 1-800-868-3406 AND go online at ABC.com (account required) AND visit Facebook. Need help? Read the FAQ.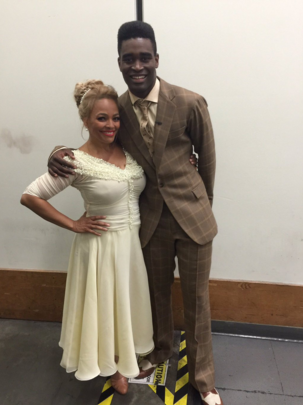 Thanks @PetaMurgatroyd for all your love & support on @DancingABC!!! You da best!!! #DWTS pic.twitter.com/wtJVfSIBSn

— Kim Fields (@KimVFields) April 19, 2016
Headed to the @DancingABC stage to perform with @keodancer! #DWTS #TeamKimsha pic.twitter.com/AW4QlrpITZ

— Kim Fields (@KimVFields) April 18, 2016