Sellers once again lost their advantage as the S&P 500 (SPY) came roaring right back from its ugliest close since the U.S. Presidential election. The bullishness on the day was on full display with the number of new all-time highs well out-pacing new all-time lows by 181 to 79. While the S&P 500 (SPY) still has to prove itself with a fresh close above its 50-day moving average (DMA), I decided to examine some scans at SwingTradeBot to identify some of the strongest stocks in the market – stocks I might want to buy on the next major market pullback (assuming another one actually occurs one day). What I found greatly surprised me.
I used SwingTradeBot to download its list of stocks making new 52-week highs on March 1, 2017 – the last day the S&P 500 closed at an all-time high – and stocks making new 52-week highs today (April 17, 2017). I used the Bot's standard filters including stocks with only the highest grade of "A." Between these dates, the S&P 500 lost 1.9% and established a downtrend from its all-time high. I figured that any stock which managed to hit new 52-week highs across these points must be a pretty strong and resilient stock. I expected the list to be full of technology stocks with a good helping of speculative stocks. Instead, of the 16 stocks that made the grade, 4 are utilities, 4 are REITs, and 2 are home builders. The other half consists of an assortment of consumer-related business and just ONE technology-related company. That technology company, Interxion Holding N.V. (INXN), is a Netherlands-based company that runs data centers.
Here is the complete and alphabetized list along with the associated industry…
 AGNC: AGNC Investment Corp. – Residential REITs
 ARR: ARMOUR Residential REIT, Inc. – Residential REITs
 BKH: Black Hills Corporation – Electric Utilities
 CNP: CenterPoint Energy, Inc. – Gas Utilities
 DTE: DTE Energy Company – Electric Utilities
 ENR: Energizer Holdings, Inc. – Personal Products
 ILG: ILG, Inc. – Business Services (Travel/Lodging)
 INFO: IHS Markit Ltd. – Business Services
 INXN: Interxion Holding N.V. – Internet Software & Services
 KBH: KB Home – Residential Construction
 MCD: McDonald's Corporation – Restaurants
 NRZ: New Residential Investment Corp. – Residential REITs
 NSA: National Storage Affiliates Trust – (Storage) REITs
 PHM: PulteGroup, Inc. – Residential Construction
 PM: Philip Morris International Inc. – Cigarettes
 PNW: Pinnacle West Capital Corporation – Electric Utilities
I am of course gratified to see home builders make the list as I have recently wavered on continuing to hold home builders as the seasonally strong period comes to an end. I have little interest in utilities given my impression of this industry holding a lot of very expensive stocks just as interest rates are rising (granted, the persistent strength in utilities may be telling us that interest rates are not going up nearly as fast or as high as we might think). I have the most interest in INFO (I use Markit's economic reports on a periodic basis), INXN (data centers are a growth industry and I have been thinking about plays on a European economic recovery), ENR (who doesn't use batteries?), and ILG (upside left to its all-time high but I need to investigate a LOT more) in that order. Since earnings season is upon us, I will be looking for confirmation of strength in the market's reaction to the earnings of these stocks. I will also bubble these stocks up to the top of any buy list on a market sell-off.
Even if I never trade any of these stocks (not likely), I learned a valuable trick in using SwingTradeBot for quickly identifying a small and manageable list of buyable stocks. SwingTradeBot has a lot of other scans, and I encourage interested traders to check them out.
In the meantime, I have posted a daily chart of the S&P 500 and a weekly chart of the individual stocks for full perspective: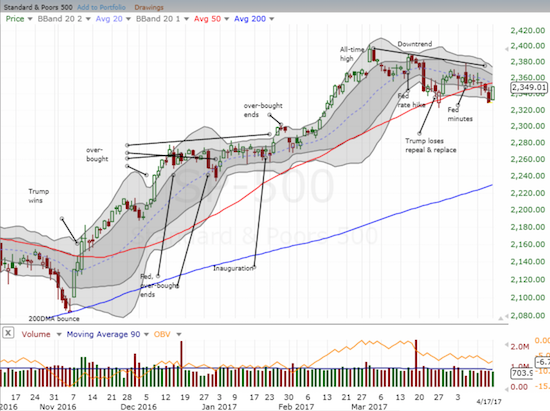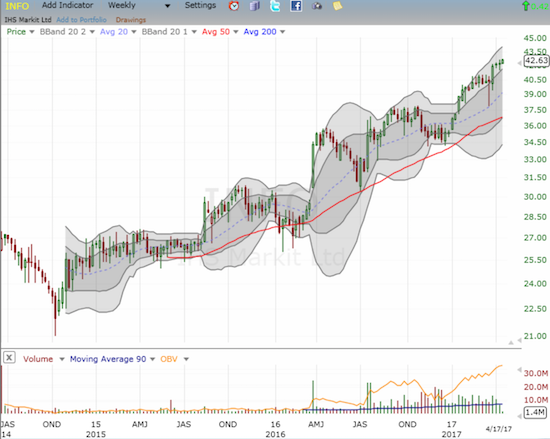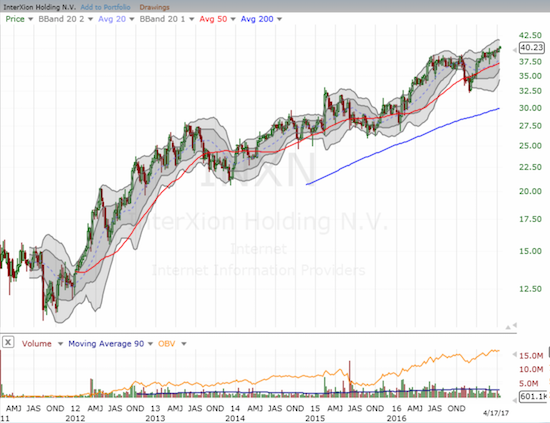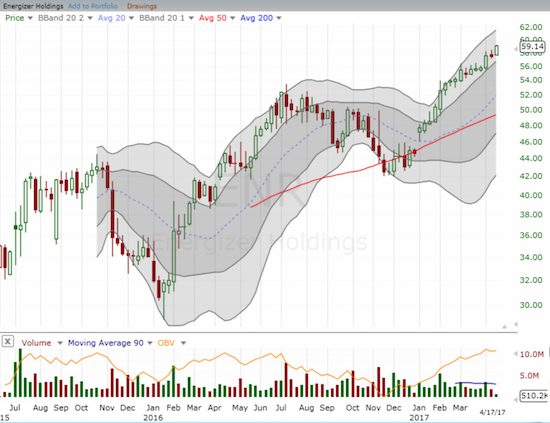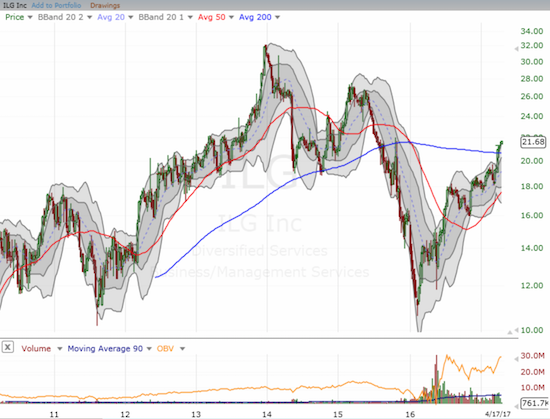 Source: FreeStockCharts.com

Be careful out there!
Full disclosure: long SSO shares and call options, SwingTradeBot is run by my former trading mentor (TraderMike)