With the technicals on the stock market weakening ever so subtly, I concluded that now might be a good time to lock in the rest of my profits on the seasonal trade on home builders. However, an upgrade from RBC on Toll Brothers (TOL) breathed new life into the home builder rally. TOL benefited mightily with a gap up and a closing gain of 3.3% that brought the stock closer to last month's 16-month high.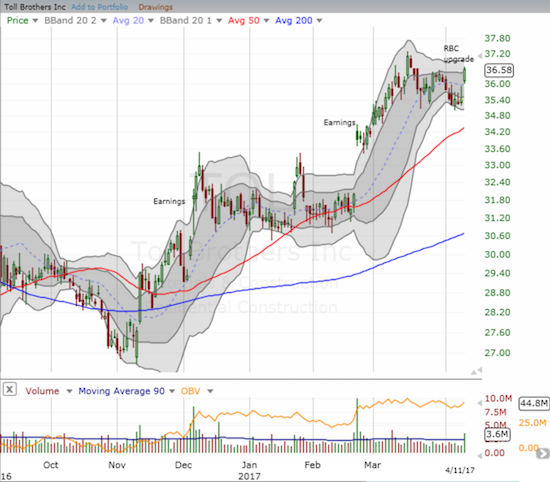 RBC upgraded TOL from market perform to outperform and moved its price target from $37 to $43. With TOL trading at $35.42 ahead of the upgrade, RBC staked a claim to significant upside.
Barron's provided some of the RBC commentary:
"Robust order growth: TOL's order growth of 20% has outpaced the other national builders during the past nine months. Favorable price/cost: ASP growth has kept pace with input cost inflation to the extent that gross margin performance should remain above 20%. Apartment business accelerating: Earnings from TOL's luxury apartment business are becoming more predictable as the business matures. The company's use of a low-risk joint venture approach requiring limited capital investment generates strong ROIC performance that creates incremental shareholder value. Prudent capital allocation: Near-term priorities include investing in land, dealing with upcoming debt maturities, and paying a quarterly dividend that was recently initiated. Mr. Connor expects that share repurchases will play a bigger role starting next year. We view management's newfound emphasis on the return of capital to shareholders as an important positive."
While I think it is late in the season for such a robust and aggressively bullish upgrade, I am grateful for the action. TOL's upgrade-driven gap up provided a definitive (technical) marker for ending the trade. I will stay content to hold onto TOL until it approaches the $43 price target or closes below yesterday's low, whichever comes first. I will reassess my follow-on strategy depending upon market conditions at the time of the execution as well as the time of the year.
The TOL upgrade was so significant that it resonated throughout the sector. The iShares US Home Construction (ITB) gained 1.3% and, similar to TOL, looks like it may have gained fresh life. ITB just cleared the top of the churn that has marred trading since March 22nd and looks poised for a fresh breakout. If only the general market backdrop could be just as clearly bullish…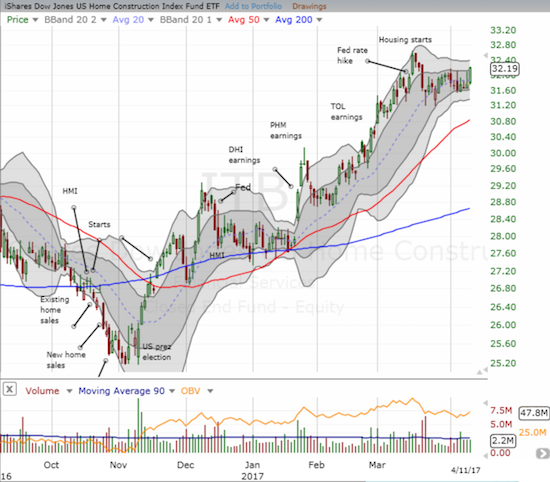 Source for charts: FreeStockCharts.com
Be careful out there!
Full disclosure: long TOL