- May 10th, 2013
(T2108 measures the percentage of stocks trading above their respective 40-day moving averages [DMAs]. It helps to identify extremes in market sentiment that are highly likely to reverse. To learn more about it, see my T2108 Resource Page. You can follow real-time T2108 commentary on twitter using the #T2108 hashtag. T2108-related trades and other trades are posted on twitter using the #120trade hashtag)
T2108 Status: 74.0% (6th overbought day)
VIX Status: 12.6
General (Short-term) Trading Call: Hold
Reference Charts (click for view of last 6 months from Stockcharts.com):
S&P 500 or SPY
SDS (ProShares UltraShort S&P500)
U.S. Dollar Index (volatility index)
VIX (volatility index)
VXX (iPath S&P 500 VIX Short-Term Futures ETN)
EWG (iShares MSCI Germany Index Fund)
CAT (Caterpillar)
Commentary
The S&P 500 (SPY) closed at its high of the day and a new all-time high by one point. This happened despite continued turmoil in the currency market. The dollar index soared again as it scored a fresh 4-year high against the Japanese yen, pushed the Australian dollar below parity for a while, took the Canadian dollar to 50DMA resistance before falling back, pushed the euro below its 50DMA support, and took the pound to its 50DMA support. Almost none of these paths were straightforward as traders bought and sold, panicked and rushed, in fits and starts. I think these past two days are the beginning tremors of what should be a tumultuous expiration week next week as bears get more and more impatient for the month of May to deliver the selling that they anticipated (again, see "This Month Of May Is Not Likely To Hurt – Just In Case, Some Hedging Ideas" for the real nuanced data on the May effect).
Caterpillar (CAT) is part of my watchlist for "sell in May." As I mentioned in the previous update, CAT triggered a sell (bought put options). Sure enough, CAT sold off today despite the good tidings on the S&P 500. CAT dropped 1.5% and just barely held support at its 200DMA. I consider CAT's drop the expected response to a stronger dollar given the company's global footprint and reliance on commodities. With put options in hand, I will have a laser focus now on CAT's day-to-day trading and any correlations to the broader market.
Finally, T2108 dropped two days in a row allowing me to run a forecast for Monday using the T2108 Trading Model (TTM). T2108 only declined 5.2% over these past two days, but it caught my interest since Friday's drop created a very mild bearish divergence with the S&P 500. If you have been following the development of TTM, you know that these forecasts generally get more accurate for steeper 2-day drops. So, as expected, TTM could not generate a high probability forecast for Monday's trading: 46% chance of a down day, 54% chance of an up day. So, we have a stalemate, and I will not initiate any SSO calls at Monday's open.
Regardless, next week should be a critical one. As a reminder, if T2108 finishes the week overbought without interruption, I will essentially project an extended stay in overbought territory. This will turn me bullish (buy on the dips). For you aggressive bulls, you are still doing OK with any buys on the breakout using a tight stop below 1597 on the S&P 500.
Daily T2108 vs the S&P 500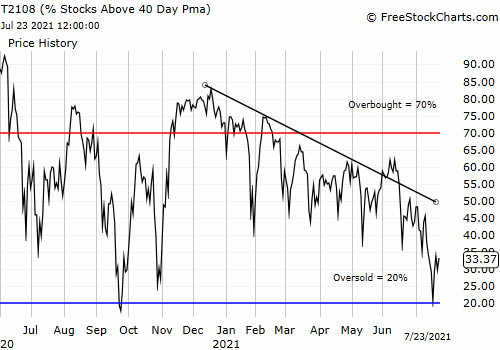 Black line: T2108 (measured on the right); Green line: S&P 500 (for comparative purposes)
Red line: T2108 Overbought (70%); Blue line: T2108 Oversold (20%)

Weekly T2108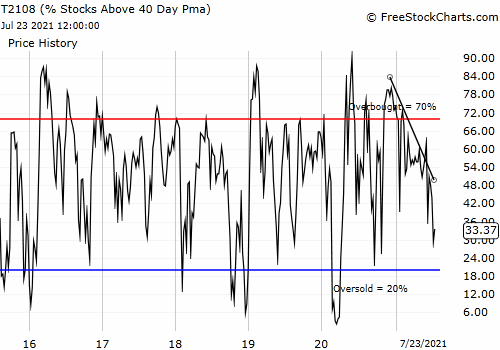 *All charts created using freestockcharts.com unless otherwise stated
Related links:
The T2108 Resource Page
Expanded daily chart of T2108 versus the S&P 500
Expanded weekly chart of T2108
Be careful out there!
Full disclosure: long CAT shares and puts; net short Australian dollar, yen and euro, net long U.S. dollar and British pound, short Canadian dollar
© Copyright 2016 ONE-TWENTY TWO - All Rights Reserved