A very simple message from Above the 40 for today: gravity continues to tug the stock market toward oversold conditions. While the melt-up on the S&P 500 (SPY) has transitioned to a "levitation" and the NASDAQ (COMPQX) stumbled into a test of support at its 20-day moving average (DMA), the percentage of stocks trading above their respective 40-day moving averages (DMA) continues trending lower and lower. The stock market feels like it is waiting on oversold trading conditions.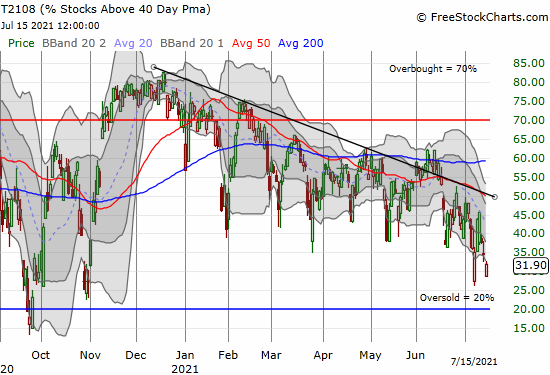 On the last three rebounds, AT40 (T2108) has failed to even reach the former downtrend line. This behavior is the definition of "heavy" trading. At one point, AT40 traded as low as 29% before closing at 31.9%. The widening divergence between AT40 and the S&P 500 looks ready to resolve into a long overdue bout of oversold trading (almost a "quasi" bearish divergence). I am now waiting on oversold trading conditions and doing my best to avoid major stock purchases until then. I am even doing more fading of stocks that try to rally underneath 50DMA resistance.
The next Above the 40 post will feature the standard review of the stock market outlook.
Be careful out there!
Full disclosure: no positions