My first "test" trade on Ethereum (ETH/USD) succeeded. I took profits on ETH/USD as it faded from $700 and a 2 1/2 year high. I wanted to hold on, but the clincher triggered with Bitcoin (BTC/USD) fading sharply from its latest all-time high. The fade appeared to signal the beginning of the end of this latest crypto buying spree. At the time of writing, ETH/USD looks ready to continue rallying.
ETH/USD mainly lagged BTC/USD, so I could have done better sticking with trading Bitcoin instead of Ethereum. However, more importantly, I executed on the trading rules associated with the Google Trend Momentum Check (GTMC) for Bitcoin. I am now adjusting the GTMC to accommodate new behavior.
Bitcoin continued higher after a minor pullback that was consistent with the GTMC. The GTMC needs an addendum for trading if Bitcoin continues higher without a more significant pause. In this case, Bitcoin sprinted to a new all-time high. Such a move is a fresh sign of strength and resets the GTMC. Google search trends are in decline again, so sentiment is no longer at an extreme. With no extreme, the GTMC no longer signals a topping process.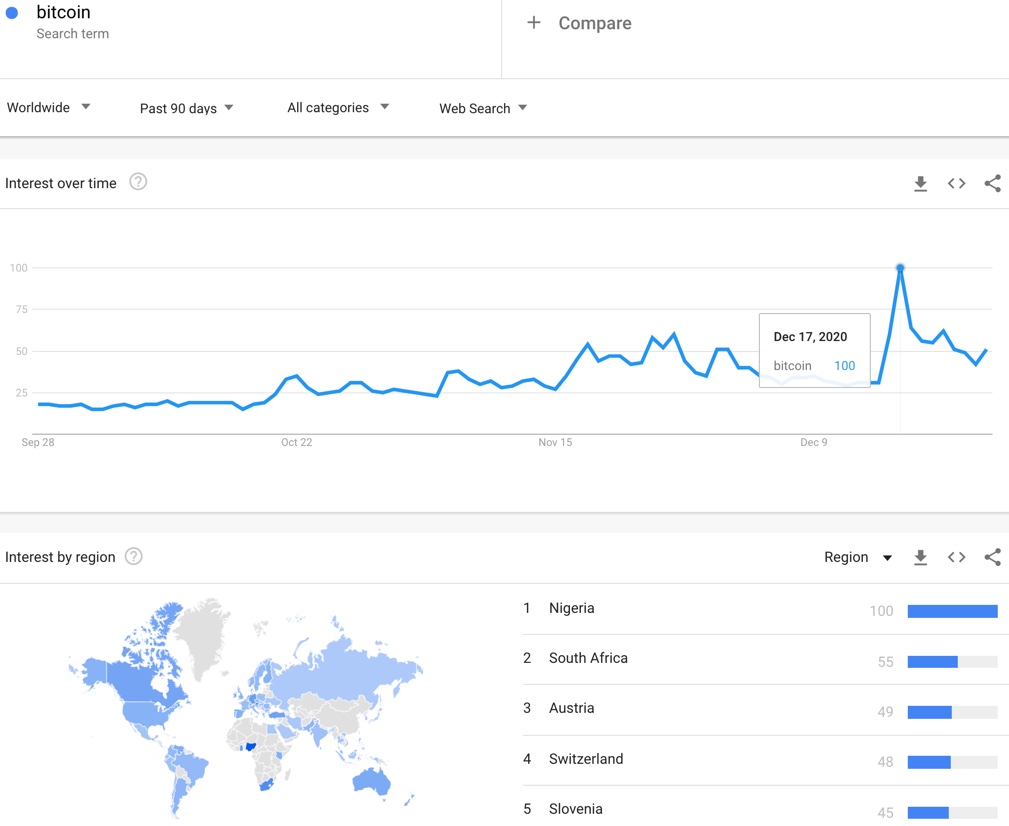 As a reminder, GTMC is sufficient but not necessary to signal a topping process. I am looking to see whether BTC/USD reverses the breakout and tests support at $24,000. The cryptocurrency's behavior from there is key: a bounce is buyable, a break of support confirms some kind of top.
Be careful out there!
Full disclosure: no positions