For this update, I have to reach all the way back to the early days of the coronavirus pandemic when the stock market was rebounding from its ultimate March lows. Given the oversold trading conditions, I was in the habit of sifting through the rubble looking for bargain buys. AGNC Investment Corp (AGNC), a company which invests in mortgage-backed securities (MBS), was a particularly interesting investment. AGNC looked like a survivor amid the chaos that had engulfed the MBS market. I made the case for AGNC by pointing to three "surprises":
AGNC would likely gain income from a lengthening in the period debtors would hold their mortgages.
The company's repurchase program stayed in place.
The MBS funding markets remained "fully functional" largely thanks to interventions from the Federal Reserve.
The combination was enough to get me bargain shopping. The lift from that time has been a slow grind, but patience is paying off. Three weeks ago, AGNC broke out above its 200-day moving average (DMA) for the first time since my April. The stock broke out again on November 5th and confirmed that bullish breakout on November 10th. AGNC now trades at an 8-month high.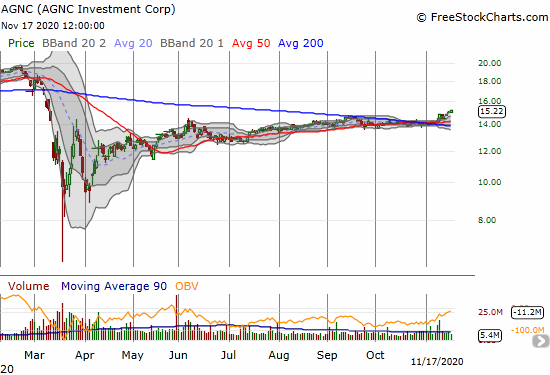 I still consider AGNC a buy, especially with the "reopen trade" rallying in full effect. Moreover, an amazing boom continues unfolding in the housing market. The company continues to pay dividends, and, as promised, AGNC continues to repurchase (cheap) shares. In its last reporting quarter, AGNC repurchased a whopping 11.0M shares at an average $13.95 price. I will join AGNC in accumulating more shares in coming days or weeks.
Be careful out there!
Full disclosure: long AGNC