Given my interest in the housing market and housing-related stocks, I have followed the culture of collapse in the mortgage REIT (real estate investment trust) sector with a mixture of horror, dread, astonishment…and buying interest. Some companies in this sector have already gone out of business thanks to aggressive margin calls during the worst part of the recent market crash. I am picking through the survivors looking for signs of staying power. AGNC Investment Corp (AGNC) might be one those companies.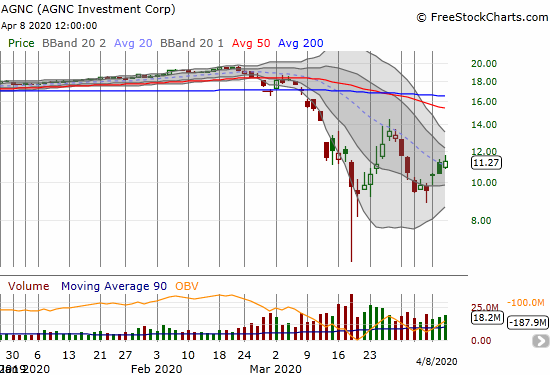 AGNC Investment Corp released a company update that included a dividend cut that enables the company to take advantage of rock bottom asset prices. There were three surprising parts to this update, each one a potential positive that makes me think AGNC is a good pick to accumulate.
Surprise #1
"We expect that disruptions to the housing market and mortgage origination operations related to COVID-19 will cause prepayment speeds for these pools to be materially lower than what might otherwise be expected.  We believe that our retention of almost all of these assets through the recent market turmoil will be a meaningful driver of our future returns."
In a time of financial pressures, mortgage holders will be more inclined to hold onto cash rather than draw down to pay off a mortgage with an already low interest rate. As a result, AGNC gets to hold a dividend paying asset for longer than expected, generating more income than expected. Any extra income during these times is a huge positive. This positive of course requires mortgage holders to stay out of default.
Surprise #2
"The Company's previously announced $1 billion share repurchase program, which was authorized by our Board of Directors in July 2019, remains in effect. As of the date of this press release, the Company has $0.9 billion in remaining repurchase capacity available under the program."
Despite cutting the dividend to maintain liquidity, AGNC still has room to repurchase shares. This is an important bonus. While many other companies are suspending buyback programs out of a fear of even lower prices and cash crunches, AGNC has the proper perspective: buy when prices are low. This announcement is not a full positive until the company announces its next share buyback. A big difference exists between announcing that a share repurchase program remains in effect and actually buying shares. Per the announcement above, AGNC has only exercised 10% of its authorization in 9 months. This slow motion repurhcase program is a blessing in disguise as AGNC's stock price closed out July at $17.14. The stock is down 34.2% since then.
Surprise #3
"Agency MBS funding markets were fully functional throughout this recent crisis and continue to provide attractive funding opportunities for our portfolio."
I would have never guessed that these markets were functional at all much less "fully functional"! AGNC fell as low as $9.38 on March 29th before its first rebound. The price action in mortgage REITs screamed out distress and dysfunction. The Federal Reserve was and is a key factor in this continued ability to function. From AGNC's press release: "The agency mortgage-backed securities ("Agency MBS") market has continued to strengthen since quarter end in large part due to the ongoing support from the Federal Reserve." In other words, the Fed's actions seem to be working as intended.
Given AGNC looks like a major beneficiary of the Fed's support, the double-bottom in the shares between March and April looks sustainable. Per the technicals, a break below this double bottom will signal new trouble and peril for this stock and the mortgage REIT sector overall.
Be careful out there!
Full disclosure: no positions