Look no further than LGI Homes (LGIH) as a confirmation that at least some parts of the country are back to business after a temporary pause from COVID-19 (coronavirus) economic woes.
Last week, LGI Homes reported more astounding sales results. From the press release:
June home closings: +16.7% year-over-year
Q2 home closings: +3.1% year-over-year, the 2,005 closings were a new company quarterly record
First half home closings: +21.1% year-over-year
The economic shutdowns that accompanied the pandemic barely dented overall business for LGI Homes. The 21.1% year-over-year performance is particularly stunning given it includes the full economic impact of the pandemic. The company continues to stand out and above other home builders. Valuation metrics also stand out which make difficult a buy at these levels. From Yahoo Finance:
Trailing P/E: 12.9
Forward P/E: 11.8
Price/sales: 1.3
Price/book: 3.0
Shares short as a percentage of float: 14.0%
While the earnings and sales ratios look reasonable, the price/book (P/B) ratio is extremely high. LGIH tends to be expensive on a P/B basis, but I believe 3.0 is the highest yet. Home builders are generally considered priced for a recession at 1.0 P/B and expensive at 2.0 P/B.
I am equally surprised that LGIH bears are still heavily leaning gainst the stock. LGIH as a stock has been through a lot over the past few months. Shorts should have covered (taken profits?) and left the stock alone when LGIH hit a 3-year low in April well after the rest of the stock market bottomed. Shorts should have certainly evacuated after strong earnings guidance eventually pushed LGIH through its 200-day moving average (DMA) in mid-May.
This latest good news drove LGIH to a 5.9% gain and an all-time high. The stock followed through with another all-time high the very next day.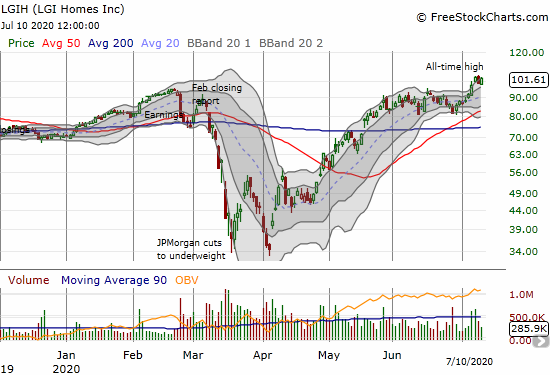 Going forward, I am unlikely to buy back into shares in LGIH even as the stock continues to move higher. At such lofty levels, I greatly prefer to use options to reduce downside risks. Moreover, the seasonally strong period for buying and trading home builders is still 3-4 months away. Regardless, LGIH is a builder and a stock that stays at the top of my "buy on the dip" list.
Be careful out there!
Full disclosure: no positions