It seems like an eternity has passed since LGI Homes (LGIH) reported yet one more bullish home closings report. For February, LGIH reported a year-over-year increase in home closings of 54.2% and a year-over-year increase of 57.1% in January and February combined. With another home closings report due soon, it looks like the stock market is bracing for very bad news. LGIH dropped today 8.7% and hit a fresh near 3-year closing low on very high trading volume.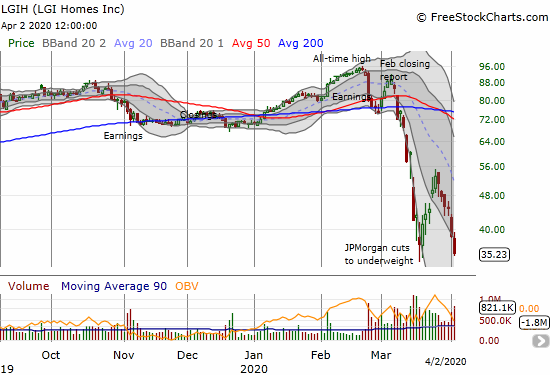 LGIH's poor close is particularly ominous because it is the only home builder on my watch list that closed at a new low this week. In fact, sellers have hit LGIH every day for the past 6 days. The latest loss happened on a day the S&P 500 (SPY) gained 2.3% and oil soared for its biggest one-day gain in history. LGIH has a substantial business in Texas, so part of its fate is tied to the health of the oil business.
In the quarter ending September, 2019, LGIH closed 44% of its homes and earned 40% of its revenue in its "Central" region which includes Texas. The region will be in focus as the housing downturn of 2020 unfolds.
Finally, note the JPMorgan Chase downgraded LGIH to underperform right at the previous low for this sell-off. The stock proceeded to rebound from that point before topping off with a 44% gain. That was one effective stay of execution! With momentum on JPMorgan's side, I am looking for LGIH to find its next support around $28 where the stock consolidated from October, 2016 to April, 2017.
Be careful out there!
Full disclosure: long SSO