At the end of last month I made the following claim about the euro in reference to EUR/USD:
"The slide will likely take some time, but I fully expect EUR/USD to retest its low around 1.089 from September of last year. The current rebound looks like a technical break from many months of decline. At some point in the coming weeks or months that decline should resume…"
The timeline turned out to be a LOT shorter than even my most bearish expectations. This week, EUR/USD sliced right past the low from September, 2019 and hit a near 3-year low. The weekly chart below shows EUR/USD is already heading to the bottom of a 2-year downtrend channel.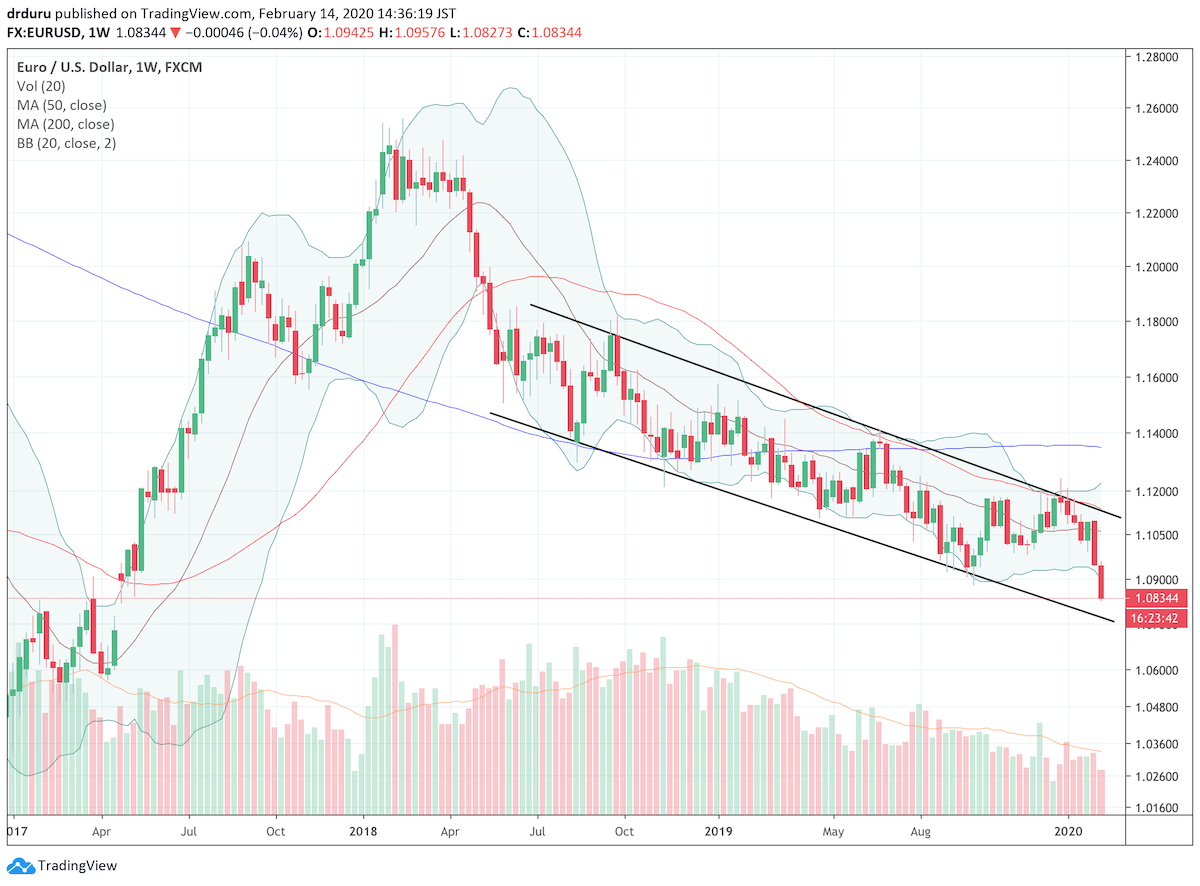 The downward move was so swift that I took profits on most of my short euro positions in expectation of an imminent bounce. Instead, the downward momentum continues to press on EUR/USD to the tune of down days 9 out of the last 11.
It is easy to grab the latest negative headlines to explain the latest sell-off in the euro, but the above chart reminds me that the euro is mainly cooling off a sharp rally from 2017. That rally surprised me given the prospects for the U.S. economy looked so much better than the eurozone…and they still do. the current downward pressure SHOULD happen to a currency sitting on negative interest rates with no end in sight.
On the other hand, Deutsche Bank AG (DB), a bank and financial stock that became symbolic of eurozone weakness and vulnerabilities broke out this year. After consolidating from May through December, 2019, DB soared 41.6% year-to-date!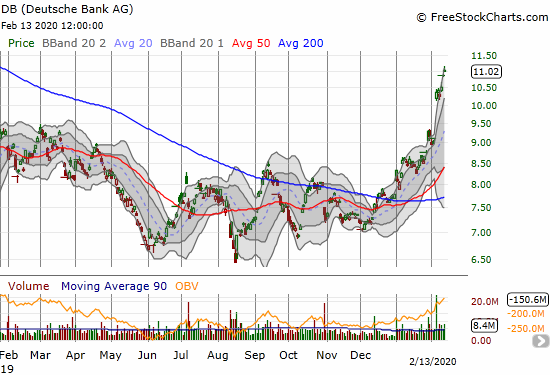 DB now looks over-extended and is not worth chasing here. Yet the stock is a buy on the dip unless some contradictory catalyst emerges. Perhaps the drag of the eurozone eventually weighs on DB again…or perhaps DB is a leading indicator of future healing for the eurozone? Either way, I am definitely watching DB much more closely as I maintain my bearishness on the euro.
Be careful out there!
Full disclosure: net short the euro