When I wrote about the buying opportunity in the wake of an over-reaction to headlines on Peloton Interactive (PTON), I did not consider a scenario where a fresh catalyst quickly appeared to apply renewed downside pressure. Analysts are one of the big hazards of swing trading.
The Short
Citron Research is a famous short-selling shop. On Tuesday, December 11th, the company took aim at Peloton Interactive.
Anyone could have outlined this same over-valuation story, but because so much media follows and republishes Citron Research – not to mention a Twitter (TWTR) following of at least 122,000 accounts – the gears of trading quickly react, spinning and gnashing into explosive, high-volume selling.
In PTON's case, the high volume happened just on the day of the breaking news. The following day, Wednesday, volume returned to the norms of December and buyers returned. The chart below shows that PTON dropped as low as $30 before rebounding all the way back to $32.03.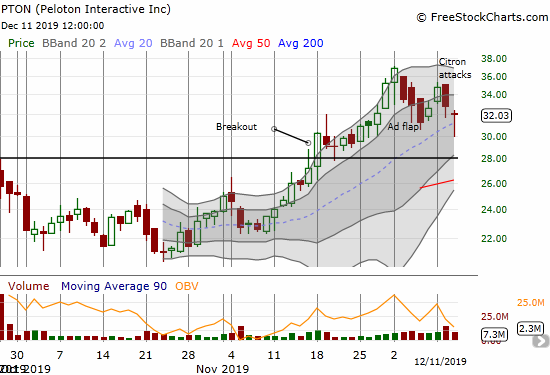 The Trade
The sharp rebound is particularly interesting because PTON has extremely high short interest. With an astounding 66% of the stock's float sold short, little room remains for more bearish bets. I am guessing fresh shorts rushed into PTON over the past two days, and they made a very crowded traded even more crowded. With this context, Wednesday's trading looks like a washout kind of day where sellers quickly exhausted themselves at the downside extreme of $30/share.
The solid confirmation that buyers are back in control happens after they close the stock above this week's intraday high. Such a move would essentially return PTON close to its previous uptrend. A close below Wednesday's intraday low would signal that sellers remain in control with more downside risk to come for PTON.
Since PTON did not close below my stop-loss point, I am still holding my position. While I am disappointed Citron helped wipe away my profits as quickly as they came, I think my original trading thesis remains intact. Citron mainly shifted the lines and goalposts. Wednesday's impressive rebound makes me prepared to add to my position. My new stop-loss is of course reset to a close below Wednesday's intraday low.
Be careful out there!
Full disclosure: long PTON, long TWTR