"So I think, in hindsight, even though we're getting all these encouraging signs, just dealing with the complexity of various kinds of national governments, their processes are more, I would say, kind of persnickety, time wise, and from a procurement point of view. So it's just frankly, just taken longer than we anticipated.


But the encouraging thing is, I think that the number of customers and the size of the pipeline is much larger than we had originally anticipated."

Ralph Clark, CEO ShotSpotter, Seeking Alpha Q2 2019 Results – Earnings Call Transcript, August 6, 2019
The disappointment in Q2 earnings from ShotSpotter (SSTI) was mainly about the international business. The company got a little ahead of itself extrapolating from several positive signals in its international business: a broadening pipeline, numerous conversations across multiple markets, visits to examine domestic installations, budget and procurement discussions, and contracting processes. The error was compounded by extrapolating from a U.S. sales model to estimate the sales potential of these positive signs. ShotSpotter even established a subsidiary in Colombia!
The momentum continued downward with ShotSpotter reducing full year guidance once again. In Q1, ShotSpotter reduced guidance from the range of $45M to $47 to the range of $44.5M to $45.5 million due to delays in signing two deals and a 7-mile contraction in the deployment of an exiting customer. Second quarter guidance was further reduced to the range of $42 to $45M given the delays in international.
The stock said everything about the disappointment. SSTI lost as much as 19.0% after the Q2 earnings; the stock closed for a loss of 9.8%. Despite a spell of buying interest during a period of two investor presentations last month, SSTI is now down a whopping 41.3% post-earnings. SSTI sits at a stomach-churning 17-month low which finishes a reversal of the stock's entire bullish breakout in March, 2018.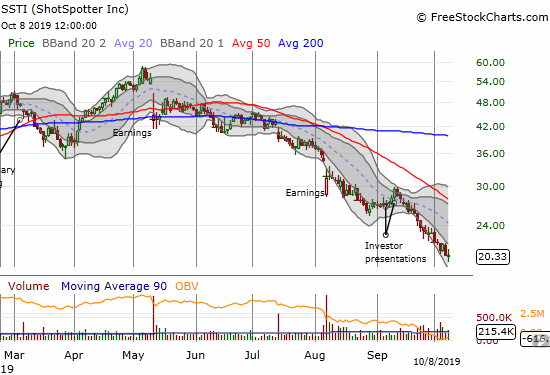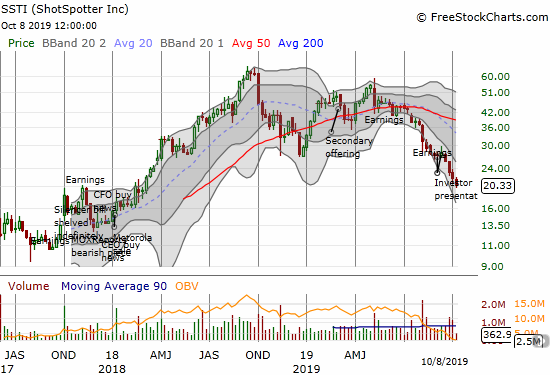 The reaction seems excessive relative to the incremental reductions in guidance. However, SSTI is an expensive stock even with the current decline and reversal. SSTI now trades at a forward P/E of 56.4, price/sales of 6.0, and price/book for 7.7 (data from Yahoo Finance). I do not expect the stock to turn around until the earnings results show the company is back in a convincing growth mode.
Also hurting the stock was the recognition that a significant portion of the company's installed miles will be back-end loaded this year whereas in 2018 about 65% of miles were installed in the first half of the year. While the company has consistently warned about the lumpiness in earnings results, these kind sof swings likely play havoc with analyst models which trigger buy signals on consistent growth patterns. It is also too early to model out the growth opportunity of Missions™, the company's platform for planning police patrols.
Sentiment in the general stock market is also hurting small cap stocks like SSTI. The iShares Russell 2000 Index Fund ETF (IWM) last peaked in May of this year and has effectively made no progress since a two-month spurt higher to begin the year. (My favorite technical indicator, AT40 (T2108), the percentage of stocks trading above their respective 40-day moving averages (DMAs) also closed at 34%).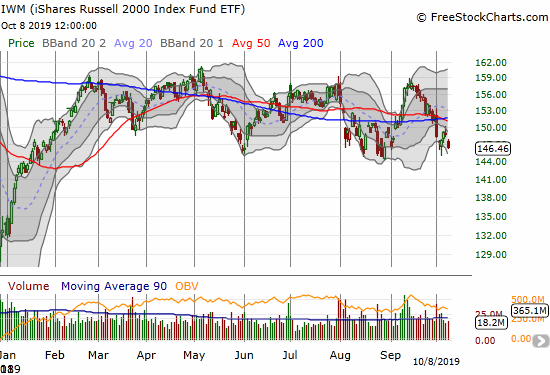 Finally, with global growth slowing down, ShotSpotter is facing very real headwinds to its international growth strategy. Assuming the global growth slowdown expands next year, I have to assume that SSTI will stay stuck in a trading range at best. Given my expectations, I have not yet used this big sell-off to buy additional shares. It is tempting to buy more because the company continues to commit to its longer-term objectives of deploying domestically 600 miles over the next 4+ years with almost 300 in 2020 alone. I am a little surprised the company did not take this opportunity to guide the miles down a bit for 2020 just to avoid the risk of another guide down, but clearly management is very bullish.
An analyst question about 2020 said everything about the abiding and newfound wariness among investors:
"…moving back to this question of the 300 mile cadence, understanding of course that that's kind of a good rule of thumb over time. You do if assuming this 70 miles happens, that works out to you 107 for this year on my math. That's a heck of a 2020. Are you still comfortable with people publishing models that would have almost 200 miles added in 2020…"
With expectations already set so high, the stock cannot have much more upside until the earnings news, particularly guidance, firms up.
The good news is that SSTI may soon help support the stock. With Q2 earnings, ShotSpotter instituted a share repurchase program up to $15M. Hopefully the purchases have yet to begin given the on-going slide in the stock. The repurchase plan represents a significant chunk of ShotSpotter's stash of $27M in cash and cash equivalents. This cash balance was boosted by a secondary offering in March which included a company sale of stock worth about $11M. In other words, ShotSpotter is selling high and buying low.
Be careful out there!
Full disclosure: long SSTI