ShotSpotter (SSTI) has taken investors on a wild ride since peaking in September ahead of the big market breakdown in October. The stock made an amazing recovery off the December lows and, at one point, printed a near double. Unfortunately, a secondary offering of stock, priced at $44.90, may have put the lid on the stock for quite some time to come unless the company rolls out some amazing news soon…like at upcoming Annual ROTH Capital Conference (March 18-19). (Note a pre-recorded webinar will be available on March 18th, and I plan to write a short summary soon after the airing).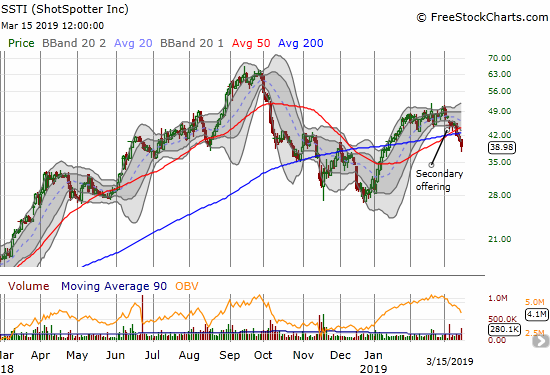 SSTI gapped down on the news of the offering and closed just above the offering price. The stock hung on for dear life for three more trading days before succumbing to selling. As the chart above shows, the stock quickly suffered a major technical breakdown below its converged 50 and 200-day moving averages (DMAs) which in turn has formed a potential head and shoulders topping pattern. With the stock already trading well below the offering price and down about 20% from the last peak, investors are now back in a tough spot. I was hoping the additional stock would serve as additional liquidity for big investors; obviously that hope has yet to materialize.
My trader instinct tells me to sell this breakdown and wait for the stock to recover from this breakdown (or test the December low) before getting constructive again. The bullish investor in me on SSTI says to keep holding on as I have done for so long now. This tug of war is the dilemma that comes from "falling in love" with a company and its stock! (In other words, don't fall in love when it comes to the stock market).
Since I already accumulated shares in the last big sell-off, I will not buy into this latest sell-off. If the stock breaks those December, 2018 lows, I will have to re-evaluate the thesis on this stock.
Be careful out there!
Full disclosure: long SSTI