Nothing like a good sell-off to kindle interest.
Until November 14th, Bitcoin (BTC-USD) held a floor between 5750 and 6000 for the entire year, whether on an intraday or "closing" basis. After that threshold broke down, sellers overwhelmed buyers to the tune of new 52-week lows. The cryptocurrency now sits at a 13+ month low, a -69% year-to-date performance, and a price that is 78% below the all-time high.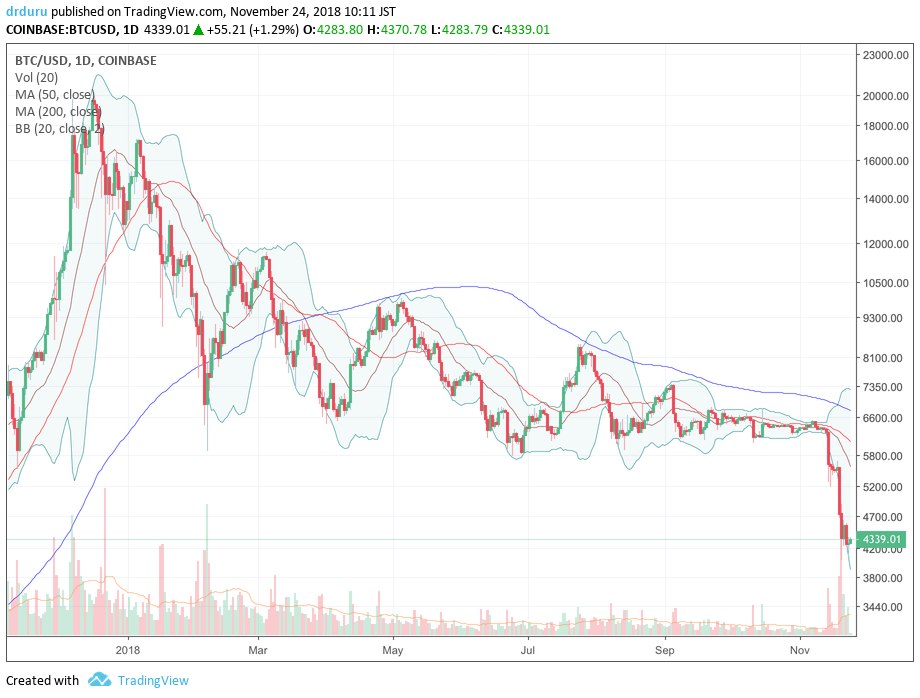 Source: TradingView
This latest plunge in Bitcoin sets up a fresh test of the relationship between Google searches and price. My on-going observation has been that the combination of an extreme in price along with a surge in Google search interest translates into a top for price highs and a bottom for price lows. In other words, accompanying extremes signal an imminent change in price direction. If this observation holds up again, Bitcoin should reach a relatively quick bottom given the recent surge in interest in the cryptocurrency based on Google trends.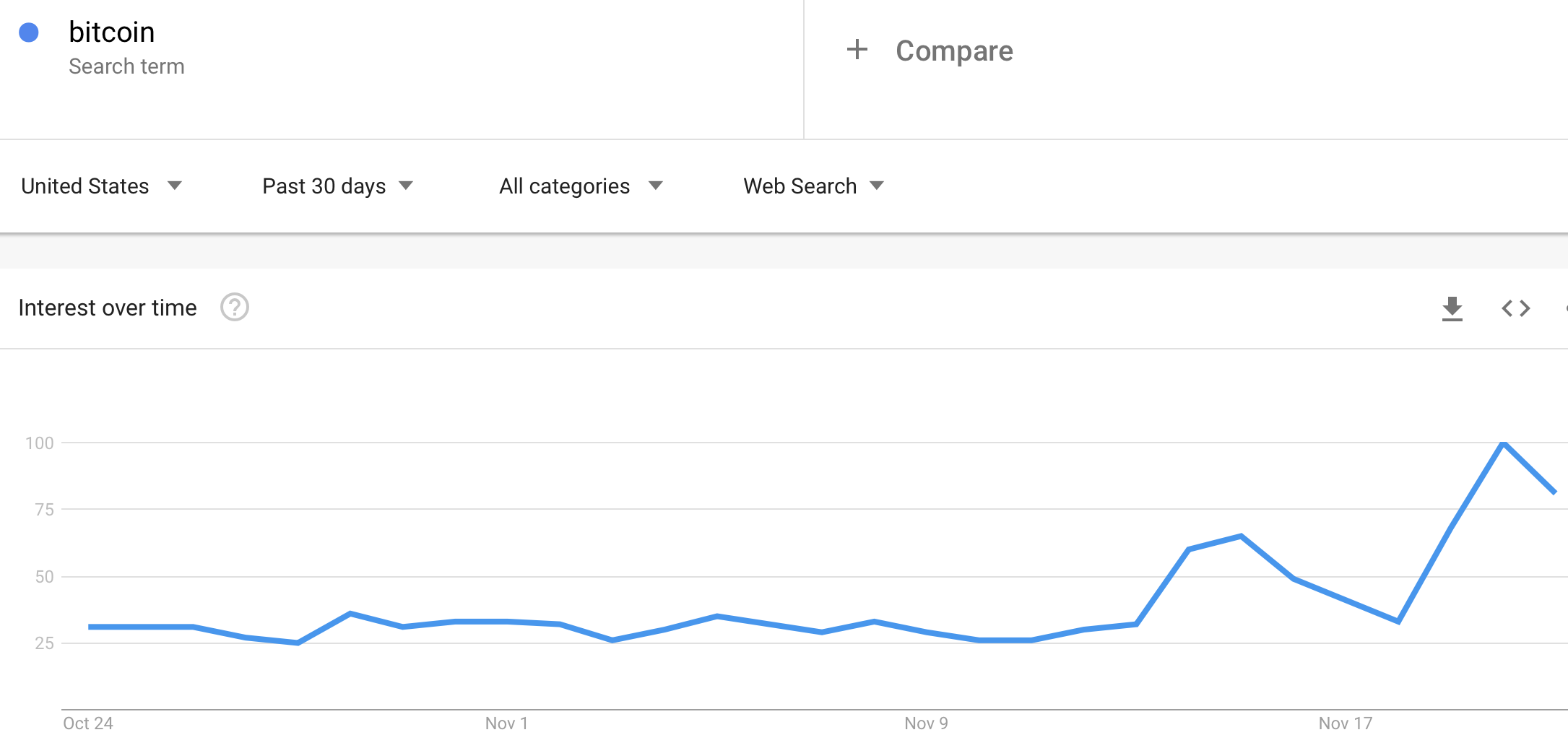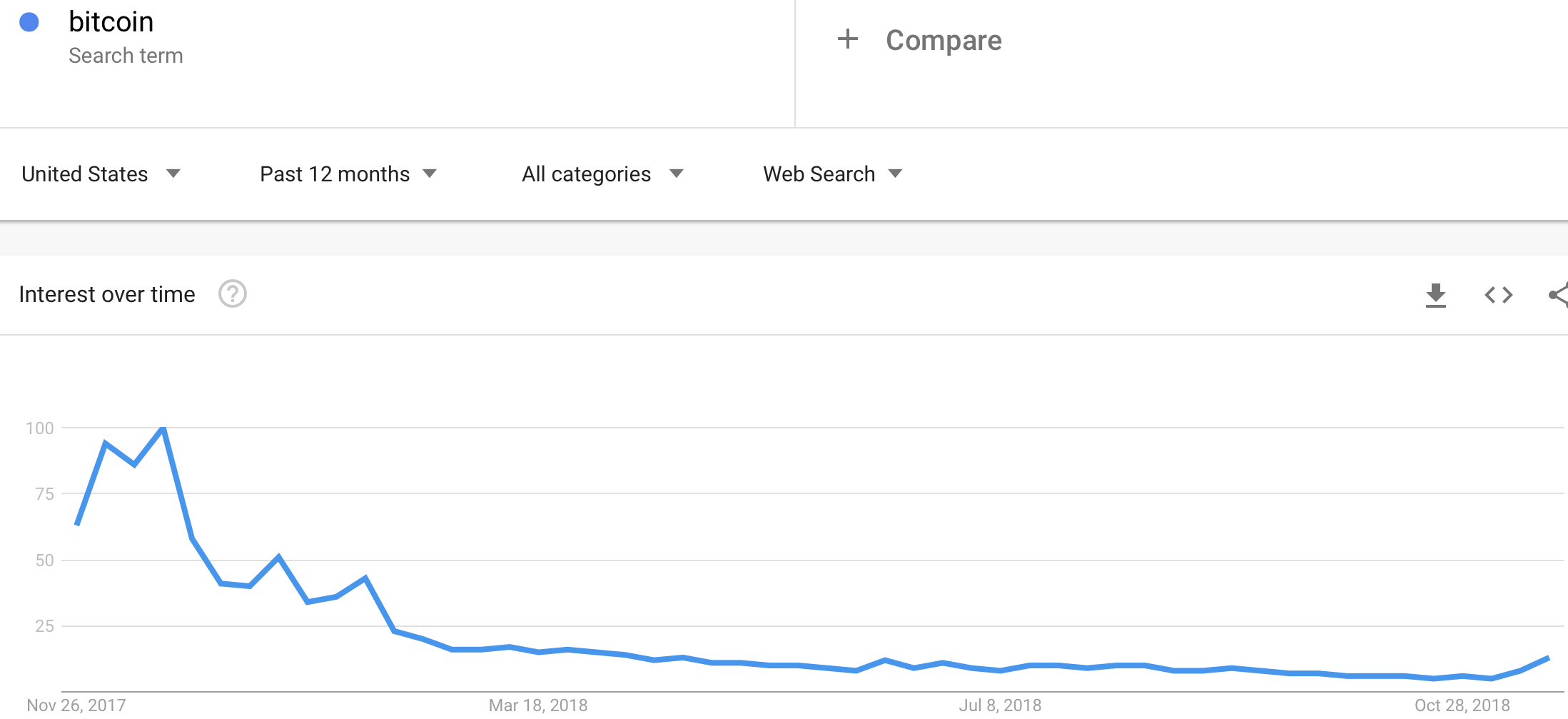 Source: Google Trends
The longer-term chart presents an interpretative challenge. The definitions of "extreme" and "surge" are subjective, so it is easy to argue that the current increase in search interest is insignificant when measured against prior interest levels. We will only know whether the current increase in interest is extreme enough to signal a bottom in hindsight. It is very risky to conclude here that a bottom is in place based on these data. For speculators, the better risk/reward play is to wait for some sign of buying interest to accompany the search interest; for example, a price high that surpasses the intraday high of a major sell-off day followed by subsequent buying interest (for more details see "Anatomy of A Bottom: Do Not Argue With Sellers – Celebrate With Buyers").
Poor liquidity in the market also presents challenges. The decline in price disrupts the economics of bitcoin mining. The bankruptcy of Giga Watt is one example of the fresh financial pressures facing miners. Moreover, Bitcoin payments have plummeted this year – according to Reuters:
"The value of bitcoins handled by major payment processors shriveled nearly 80 percent in the year to September, data from blockchain researcher Chainalysis shows. That suggests the cryptocurrency is struggling to mature from speculative asset to a serious alternative to state-issued money."
On-going price weakness makes mining and payments even less attractive, so liquidity could continue drying up until a fresh positive catalyst arrives that is strong enough to really drive up interest. That catalyst will have to be something exceptionally strong because all year long bitcoin proponents have flagged buying opportunities at every dip and every positive news event. Buyers must be pretty exhausted by now. Under this scenario, an increase in search interest could signal that new money is finally ready to believe again…
Be careful out there!
Full disclosure: no positions