The Housing Market Index (HMI) for May increased to 70 and is just 4 points off its post-recession high set last December. Just don't tell investors home builders are as confident as ever despite rising rates. Today, the yield on the 10-year U.S. Treasury bond soared to its highest level in 7 years and settled at 3.07%. The iShares 20+ Year Treasury Bond ETF (TLT) dropped 1.1%. The iShares US Home Construction ETF (ITB) followed suit with a now familiar correlation and a whopping 3.8% loss. The fresh 7-month low firmly placed the builders index into bearish territory with a confirmed 200-day moving average (DMA) breakdown.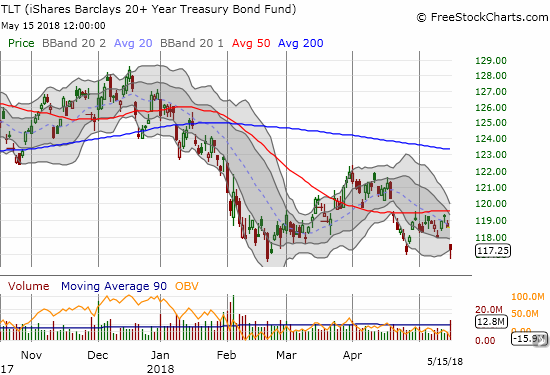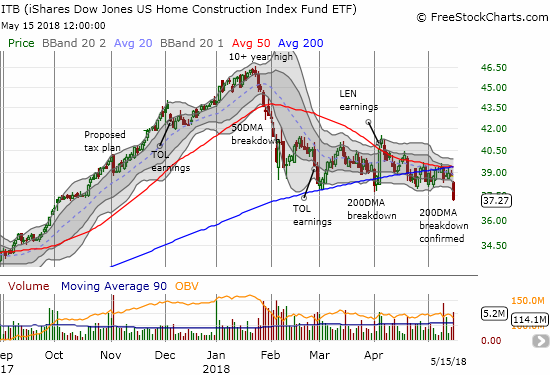 I locked in profits on my latest round of TLT puts into the drop given TLT has managed to hold current levels of support. I did not take action just yet on my trades in home builders. However, assuming that the bearish breakdown in ITB gets confirmed with additional selling, I will use the rest of the week to finally clean house of the rest of my positions in home builders. My next buy point(s) will only come in one of any three cases…
A very steep discount in shares – say, ITB reverses its entire 2017 breakout by falling to 35 and below.
November arrives bringing the start of the seasonally strong period for home builder stocks.
The sector firms up first with ITB reclaiming its 200DMA and then second closing above the previous trading range (around $41.50)
The most telling turn in the home builders was Pulte Homes (PHM). PHM was one of the few home builders that survived the last earnings season with gains. Today's 5.4% downdraft almost reversed all those gains as well punched the stock through both uptrending 50 and 200-day moving average (DMA) supports. (Recall that PHM was also one of the few home builders that was barely fazed by the one-day swoon in response to the first news of the details of the Trump tax plan).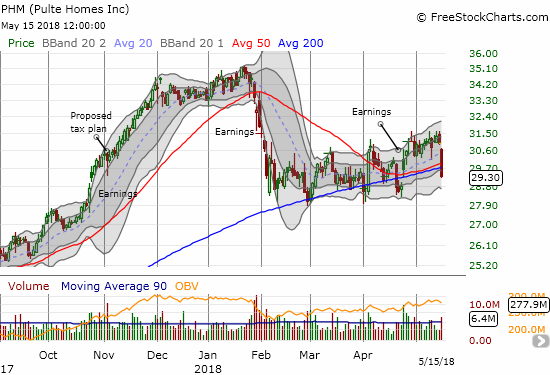 Source for charts: FreeStockCharts.com
Be careful out there!
Full disclosure: no positions