About 18 months ago, I made a bearish case for Acacia Communications (ACIA) based on the timing, pricing, and nature of a secondary stock offering that was sandwiched between ACIA's optimistic earnings guidance and subsequent news that major customer ZTE Corp. significantly reduced its guidance. The stock has never been the same and has drifted lower ever since.
The drift turned into a fresh route this past week when the U.S. Commerce Department banned Chinese telecommunications-gear maker ZTE from buying American technology for 7 years. The Commerce Department concluded that ZTE violated the terms of a sanctions settlement. From the press release:
"In March 2017, ZTE agreed to a combined civil and criminal penalty and forfeiture of $1.19 billion after illegally shipping telecommunications equipment to Iran and North Korea, making false statements, and obstructing justice including through preventing disclosure to and affirmatively misleading the U.S. Government. In addition to these monetary penalties, ZTE also agreed a seven-year suspended denial of export privileges, which could be activated if any aspect of the agreement was not met and/or if the company committed additional violations of the Export Administration Regulations (EAR).

The Department of Commerce has now determined ZTE made false statements to BIS in 2016, during settlement negotiations, and 2017, during the probationary period, related to senior employee disciplinary actions the company said it was taking or had already taken. ZTE's false statements only were reported to the U.S. Government after BIS requested information and documentation showing that employee discipline had occurred."
Acacia plunged 36.0% on the news given the ban on ZTE will cause a large revenue gap or ACIA. The company's latest 10K filing outlines the high dependency on just a few customers like ZTE (emphasis mine):
"In 2017, 2016 and 2015, our five largest customers in each period (which differed by period) collectively accounted for 70%, 78% and 74% of our revenue, respectively. In 2017, 2016 and 2015, ADVA Optical Networking North America, Inc. accounted for 15%, 26% and 22% of our revenue, respectively, and ZTE Kangxun Telecom Co. Ltd., or ZTE, accounted for 30%, 32% and 28% of our revenue, respectively. In addition, during 2017 and 2015, Coriant, Inc. accounted for 11% and 13% of our revenue, respectively. Coriant, Inc. accounted for less than 10% of our revenue in 2016."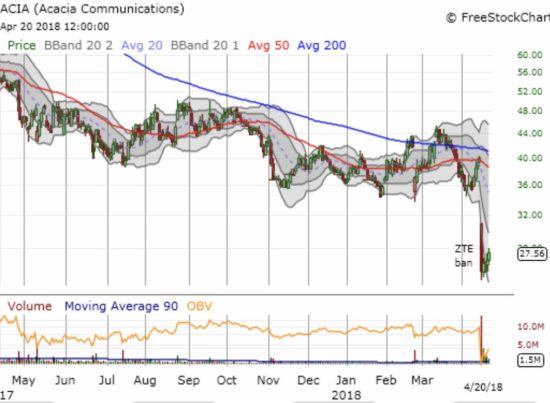 Source: FreeStockCharts.com
CNBC's Jim Cramer claimed on Mad Money that investors should have seen this disaster coming based on disclosures in ACIA's 10K filings. I think the warning signs were in plain sight without having to dig through the 10K as I explained in 2016. In fact, I think a close read of the 10K might actually have encouraged optimistic investors that the ZTE issues were no longer a problem. After several extensions of temporary licenses, the Department of Commerce finally settled with ZTE. From the last 10K:
"…on March 8, 2016, the U.S. Department of Commerce published a final rule that amended the Export Administration Regulations by adding ZTE its parent company and two other affiliated entities to the "Entity List," for actions contrary to the national security and foreign policy interests of the United States. This rule imposed new export licensing requirements on exports, re-exports, and in-country transfers of all U.S.-regulated products, software and technology to the designated ZTE entities, which had the practical effect of preventing us from making any sales to ZTE. On March 24, 2016, the U.S. Department of Commerce issued a temporary general license enabling us to resume sales to ZTE. The U.S. Department of Commerce extended the temporary general license several times, through March 29, 2017. On March 7, 2017, the U.S. Department of Commerce announced a settlement agreement with ZTE and then removed ZTE from the Entity List on March 29, 2017. This action ended the enhanced export restrictions imposed in March 2016 and eliminated the need for the temporary general license."
Sure ACIA also warned "…There can be no guarantee that the U.S. Department of Commerce will not take future regulatory action that may materially interfere with our ability to make sales to ZTE or and of its affiliates or other customers, in particular in China." However, this warning is boilerplate and mainly designed to limit (or eliminate) legal liability if ZTE experiences another adverse outcome (like the current one). The statement is not itself a judgment on how likely or unlikely future troubles could be. This warning is as generic as this related disclosure:
"In addition, various countries regulate the importation of certain products, through import permitting and licensing requirements, and have enacted laws that could limit our ability to distribute our products. The exportation, re-exportation, transfers within foreign countries, and importation of our products, including by our partners, must comply with these laws and regulations."
For me, the main troubling aspect of this ZTE drama is that ACIA went IPO just two months after the first temporary general license for ZTE. These regulatory issues with ZTE, one of just a handful of significant customers, should have been enough of a risk factor to prevent ACIA from zipping from the close of its first day of trading at $30.95 to $123 just 4 months later! The quick and early move to issue a secondary offering at a discounted was a significant warning sign at the time. That warning was confirmed in the next 6 months after two poor post-earnings responses and an on-going downtrend. The 10K was just bonus reading material.
Be careful out there!
Full disclosure: no positions