Just a week and a half ago I was pointing to a promising breakout for Teucrium Corn ETF (CORN). That move turned out to be the top of that rally.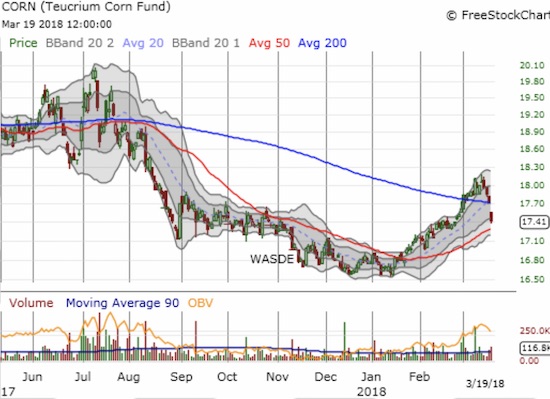 Source: FreeStockCharts.com
I am still holding my core position in CORN, but I am now looking to buy this dip with a short-term trading position. However, I became wary after I realized that money managers have sharply ramped up net long positions in corn futures and options. The (spaghetti!) chart below from Karen Braun, a Global Agriculture Columnist at Thomson Reuters, shows that net longs have not been this high since a peak in the summer of 2016. CORN last hit a major peak right around that point. Moreover, since 2012, net long positioning in corn has not climbed much higher. In other words, the big buying cycle for corn may be coming to an end soon.
Through Mar. 13, funds' net long shot to 233,063 CBOT #corn futures + options contracts from 163,534 a week earlier. Money managers have bought (an epic) 2.26 billion bushels of corn within 7 weeks. They have shed length in the days since, though. pic.twitter.com/XUbUB6H3pu

— Karen Braun (@kannbwx) March 16, 2018
If the buying cycle is ending, prices have nowhere to go but down. The wildcard is the catalyst that presumably initiated the surge in corn prices: severe drought conditions in the corn-growing regions of Argentina and tremendous export demand for U.S. corn. Braun's report on corn demand from March 16th includes the following extremes:
"The 650 million bushels of corn sold within the nine weeks ended March 8 represent more than a quarter of the U.S. Department of Agriculture's annual target of 2.225 billion bushels. It is also the largest-ever volume of net U.S. corn sales for a nine-week period since records began in 1990."
"Net export sales in the week ended March 8 of 2.5 million tonnes was the fifth-largest-ever volume for a non-rollover week since records began in 1990. The top four weeks all occurred between 1990 and 1994."
"USDA's massive step-up in its export estimate over the last two months is no joke, either. The 300 million-bushel increase from January to March is the agency's largest two-month increase to the corn export forecast in at least 20 years, possibly ever."
Taken together, I have to wonder whether this collection of extremes represents something akin to a blow-off top. If CORN trades closer to $17, a near complete reversal of the recent breakout, I might be willing to take the risk on a short-term trade. I would look for a move at least back to $18 assuming the strong fundamentals for corn prices remain intact.
Be careful out there!
Full disclosure: long CORN