DexCom (DXCM) is a maker of continuous glucose monitoring (CGM) systems. Last week, the stock of the company cratered after Abbott Laboratories (ABT) received FDA approval of its competing FreeStyle Libre flash CGM. It is the first system that allows diabetics to check and monitor glucose levels without sticking themselves.
In response to the news, analysts downgraded DXCM in droves. ABT apparently received approval earlier than anticipated and entered the market with very aggressive pricing. In Mad Money on October 4, 2017, Jim Cramer reviewed the situation and ultimately concluded that DXCM is a buy on the discount; he was also bullish before the sell-off. Cramer listed the following pros for DXCM contrasted against ABT's competitive threat:
More accurate and reliable.
More features: real-time alarms that can wake a person up and remote monitoring which enables parents to track children.
Partnership with Google to create a cheaper and smaller system.
Medicare reimbursement (on this point, I was not clear whether ABT will never be able to receive the same treatment).
Cramer also claimed that the number of diabetics who still do no monitoring constitutes a market big enough for both DXCM and ABT to share. Moreover, DXCM managed to bounce back from Medtronic's (MDT) roll-out of its "artificial pancreas."
All these positives may be true, but in situations like these I also believe in respecting the technicals. Right now, DXCM is dangerous given the combination of the recent massive breakdown and a slow deterioration from its last all-time high two years ago. DXCM has also yet to confirm a potential end to the selling. In my guidelines for picking a bottom to buy, I recommend avoiding fights with sellers and waiting until buyers show signs of life before buying. The chart of DXCM shows a clear stalemate at a very key technical level.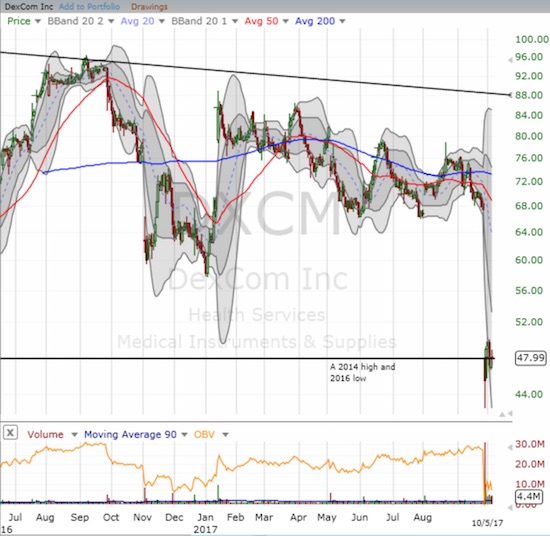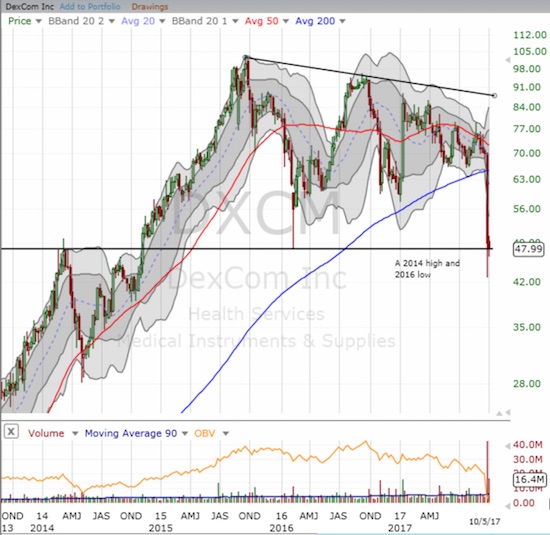 Source: FreeStockCharts.com

Based on these charts, any purchase of DXCM here would have to stop out below $42. Using my guidelines, I want to wait to buy DXCM until after it makes a new post sell-off high AND delivers a day of follow-through buying. DXCM fulfilled the criteria in the first two days after the sell-off, but slid backwards the next day. Now, it is pivoting around that important line of support defined by a peak in early 2014 and the low from 2016. Today's close was right on that line. The good news is that the intraday lows are gradually going higher. So for now, the odds are in DXCM's favor to trigger a new buying signal: a fresh post sell-off high and a day of follow-through buying. I will post a trade alert if DXCM meets the criteria.
Be careful out there!
Full disclosure: no position