I took immediate notice when Axovant Sciences (AXON) went public back in late 2015. The promise of a treatment for Alzheimer's was a huge opportunity, and I immediately had thoughts of my grandfather who struggled with the disease for years before he passed away with a heart attack. Yet, AXON had no revenues and no near-term prospect for revenues as it focused on research and development. I stayed on the sidelines, unwilling to participate in what I thought could potentially become multiple rounds of dilution from fundraising. The stock held up relatively well – including surging to an all-time high in early May and another all-time high just like week – until now…
AXON returned to my radar today after the stock lost a gut-wrenching 74% on the heels of a failed drug trial. From Reuter's:
"Drug developer Axovant Sciences Ltd said it would stop testing its lead drug in Alzheimer's after it failed to meet the main goals of a late-stage trial, underlining the challenges in developing treatments for the memory-robbing disease…

Axovant's once-daily oral drug, intepirdine, belongs to a class of drugs called 5-HT6 antagonist, which works by blocking the 5-HT6 receptor to help release acetylcholine, a neurotransmitter needed for normal cognition." (Full company press release here)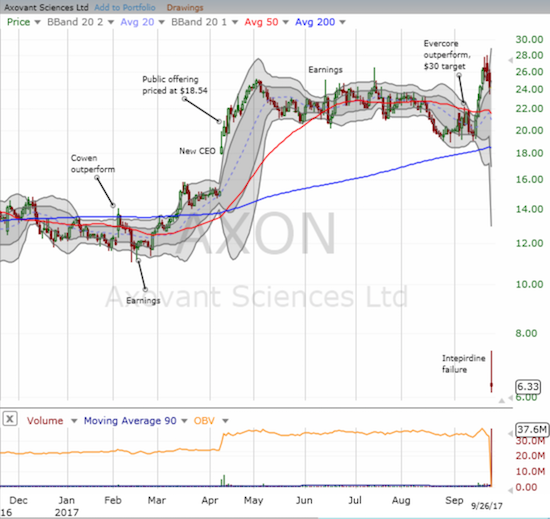 Source: FreeStockCharts.com
After this massive sell-off, I am much more comfortable considering taking a risk on the company. The balance of risk/reward seems more fairly valued here. For example, the company is now worth 3.3 times book (according to Yahoo Finance). As of June 30th, AXON held $297.9M in cash and (long-term) debt of $51.8M. Net cash used in operating activities in the last quarter was under $50M. I assume the company can make it for another 18 months – just long enough to raise more capital. There is of course the risk of an a new capital raise given the company likely needs to re-fortify itself against any further setbacks. The company raised $125M in April, so it will likely need to wait until late 2018 before daring to come back to the market for more.
In the meantime, AXON still has plenty of news left to come:
"'This is a very exciting time for Axovant as we expect top-line results from five late-stage clinical studies over the next several months,' said David Hung, M.D., chief executive officer of Axovant. 'If successful, we believe that three of these studies — MINDSET, HEADWAY-DLB and the REM Behavior Disorder study — could potentially serve as pivotal studies and may, if approved, lead to new treatment options for people impacted by Alzheimer's disease and Lewy body dementia.'"
The CEO's comments in an interview on CNBC's Halftime Report caught my interest. Hung noted that in the last 14 years not a single drug has won approval for the treatment of Alzheimer's; 125 consecutive failed trials in all. In that context, I am surprised AXON was able to garner as high as price as it did. Yet, I found the CEO's attitude VERY encouraging. Hung acknowledged that his company is in a risky place, but he is not allowing the fear of failure to deter his company from "entering the war." He noted that the U.S. spends $2.6B a year to treat Alzheimer's patients, so someone has to take on the risks. These proclamations are the words of an executive and company determined to succeed!
AXON is selling at a discount, but I will follow the technicals before entering the speculative fray. Using my bottom-fishing principle of avoiding arguments with sellers and celebrating with buyers, I will get interested in buying when investors prove their renewed interest by closing above today's intraday low. I will likely wait out for a confirming day as well. I use that milestone to avoid chasing the stock ever lower if pessimism keeps a firm grip on the stock. Note that I consider this situation very different from Intercept Pharmaceuticals (ICPT) which built up an extremely hefty premium going into its devastating product news last week.
CNBC's options watcher noted a large trade on the October call options on AXON. He concluded that someone (or some people) are betting on a comeback. I am not so sure. The $7.50 strike price is just above the day's intraday high (my threshold for buying), so it is very possible the motivated actors were on the sell-side with expectations of AXON floundering for the next 3 1/2 weeks.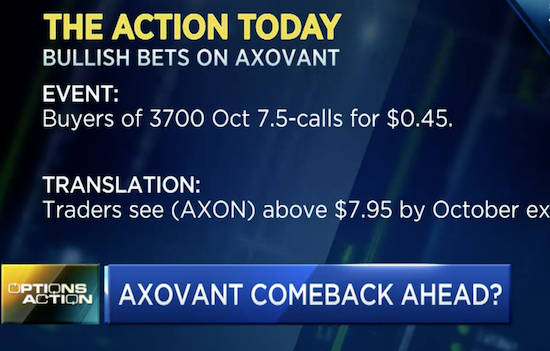 Source: CNBC
Regardless, this trade only involved $166,500 (before commissions) which may constitute a pittance to some major hedge fund. We may be looking at someone with lots of spare cash putting money on a lottery ticket. I will periodically check in on the options action to see whether positioning continues to change in the coming days.
Be careful out there!
Full disclosure: short ICPT shares and long calls