When I described U.S. Concrete (USCR) as a strong play on the U.S. economy, I noted I would wait for a dip in the stock before picking a spot to buy. That opportunity came a lot faster than I expected as USCR dipped down on rising volume to the top of its previous trading range. The stock rebounded the very next day and appeared to confirm support at the top of the trading range. However, I never pulled the trigger.
The dip happened to coincide with the approach of record-breaking Hurricane Harvey. Harvey made landfall on the northward shores of Texas and ravaged Houston, America's fourth largest city. I scrambled to understand the connection. USCR's Texas operations are mainly located in the Dallas-Ft. Worth area, far enough away from the disaster area. USCR has one facility in Houston: Custom-Crete that serves the Dallas-Ft. Worth metro area, Houston, Austin, and San Antonio. The Houston operations alone did not seem large enough to cause the sell-off.
By the time it occurred to me that a bounce was confirmed and underway, the stock surged to a new all-time high with a startling 9.9% run-up on very high volume. USCR ended the week at another all-time high.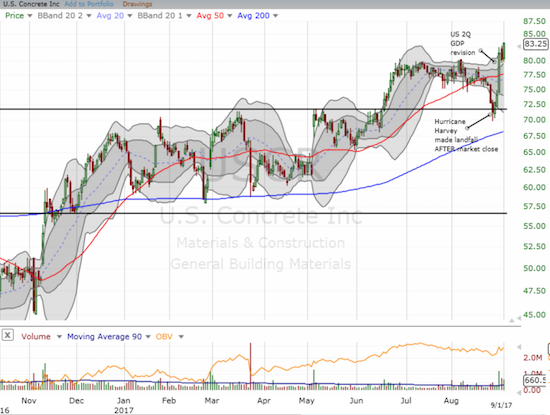 Source: FreeStockCharts.com
The apparent driver of the large move was the upward revision in the U.S. second quarter GDP report. Not only did annualized growth increase from 2.6% to 3.0%, but also growth in non-residential fixed investment leapt from 5.2% to 6.9%. This category includes the kind of construction that requires concrete. Yet, I harbor doubts that increased expectations for construction significantly relevant to U.S. concrete are the heart of the revision.
For example, here is how the BEA explained the decline from Q1's 7.2% to Q2's 5.2% growth (at the time) in non-residential fixed investment: "The deceleration in nonresidential fixed investment primarily reflected decelerations in structures (mainly mining exploration, shafts, and wells) and in intellectual property products that were partly offset by an acceleration in equipment." USCR specifically has low exposure to the commodity industries of Texas (and Oklahoma): according to USCR's investor presentation "~ 1.3% of total company revenue comes from indirect oil exposure." Moreover, when the first advance estimate was issued on July 28th, USCR GAINED a little over a point on the day.
Given the drivers appear tenuous to me, I am not going to chase the current run-up. I will just have to absorb another one of those important lessons in decisively following-up with investing and trading strategies that are backed up by my analysis!
Full disclosure: no positions