Last week, I thought a quick burst of morning buying in Chipotle Mexican Grill (CMG) was a potentially bullish sign for the hapless CMG. I anticipated buyers might finally be ready to stave off the relentless selling pressure. I even bought a call option and shares as a part of my speculation. So far, the buyers have yet to make a lasting appearance, I stopped out my positions in three days, and switch right back to a bearish positioning. With hindsight, I can see I made a very premature trade on my strategy for picking bottoms.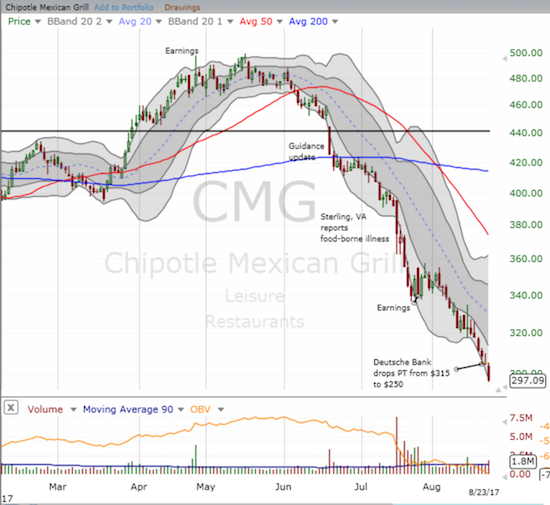 Source: FreeStockCharts.com
CMG is down 11.9% year-to-date and sits at a 4 1/2 year low. Yesterday's Deustche Bank (DB) reiteration of a sell rating and setting of a lower price target to $250 confirmed the downside bias. Trading volume picked up today to 1.8M which is 50% higher than the 1.2M 90-day average. I used the selling to lock in profits on my put options.
The technicals are leaning strongly against CMG. This latest bout of selling is a classic lesson in the power of trending. Ever since CMG broke down below support at its 50-day moving average (DMA), the stock has failed to break away from the downward trending lower Bollinger Bands (BB). For about half this time, CMG has slipped along the lower-BB. This combination is a sure sign of dedicated selling pressure. So, until CMG can deliver at least two positive days above its lower-BB channel, I will not even begin to consider a potential change in the downward trend.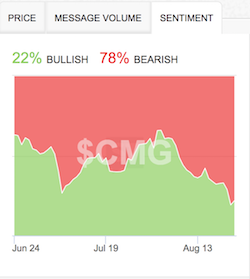 Source: StockTwits.com
Be careful out there!
Full disclosure: no positions