I clearly took profits on my relief rally trade in iShares Silver Trust (SLV) too early.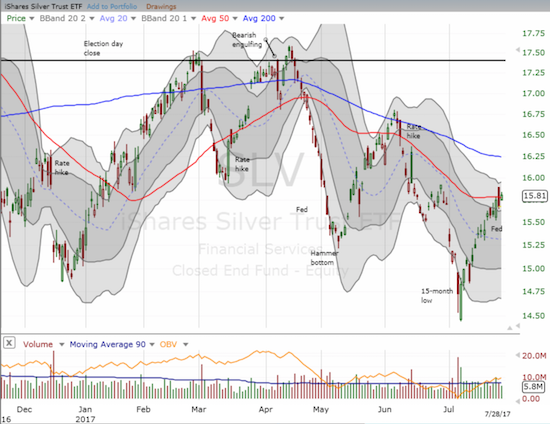 Source: FreeStockCharts.com
While SLV wrestles with resistance at its 50-day moving average (DMA), the silver ETF sits on top of a 7.3% gain since hitting a 15-month low three weeks ago. Given SLV was able to power through the latest statement on monetary policy from the U.S. Federal Reserve, I strongly suspect SLV has more room to the upside. The next target for SLV is its downtrending 200DMA.
There is an irony in this move. Silver speculators completed a near full retreat from their net long contracts just as the price of silver bottomed. I am afraid they may be waking back up just at the wrong time. The latest CFTC report on the Commitments of Traders shows net long contracts increased week-over-week for the first time since June 5th.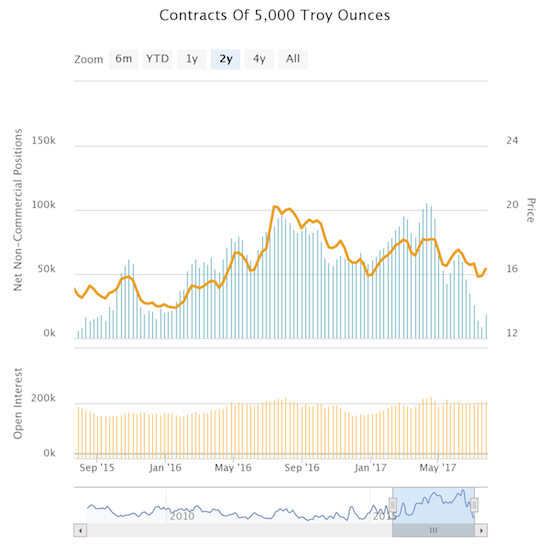 Source: Oanda's CFTC Commitments of Traders
Since it should take several more weeks for (now tentative?) speculators to get back to or near the "full bull" levels that dominated just a little over three months ago, I think silver gets another driver for more upside. So in the coming trading week, I will return to speculating on some SLV call options as a trade around my core SLV position.
Silver's surge off the latest low has put it back on track for an inverse relationship with the U.S. dollar index (DXY0). The dollar made a (marginal) fresh 13-month low to close the week. Hard to imagine that not too long ago the dollar was at a 14-year high.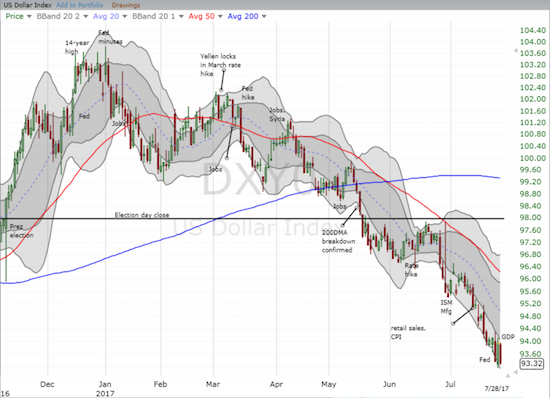 Source: FreeStockCharts.com
Be careful out there!
Full disclosure: long SLV