Ahead of the second and final round of the French Presidential election, I noted a burst of euro-optimism. That optimism continued in the form of speculators turning net bullish on the euro for the first time in three years.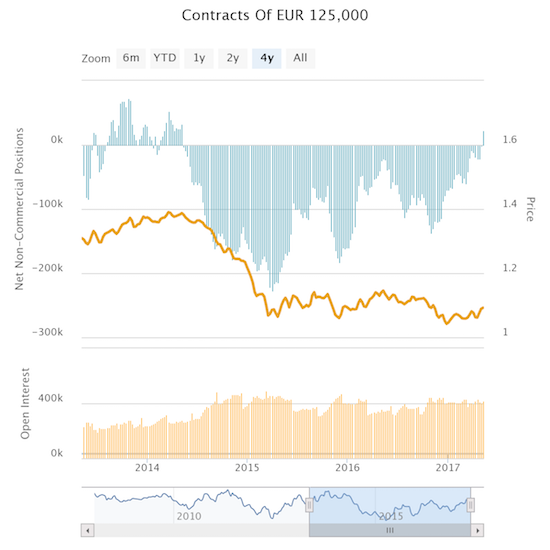 Source: Oanda's CFTC's Commitments of Traders
While this flip from bearish to bullish for the first time in three years is impressive, speculators have a long way to go to match the weight of bearishness from the previous three years. If this flip is the beginning of a sustained change in sentiment, then euro longs could work just as well as euro shorts did when speculators were firmly bearish. I am currently continuing to follow a buy-the-dip, sell-the-rally approach until I see a confirmed change in sentiment.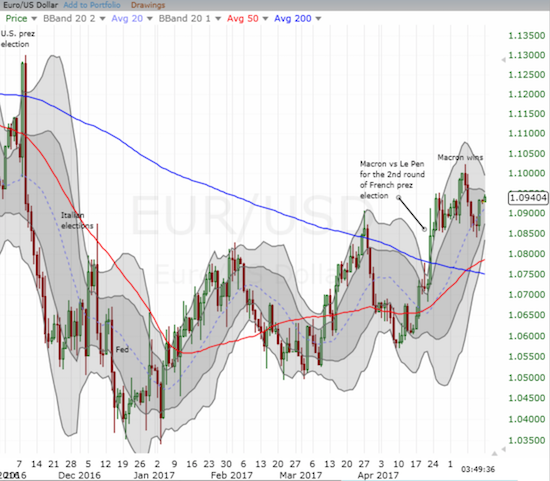 Source: FreeStockCharts.com
French Parliamentary elections begin June 11th. So it is very possible the upward progress of the euro will remain slow and halting until currency traders get comfortable with the potential or likely results of these elections. A vote of confidence in newly elected President Emmanuel Macron should send the euro catapulting higher. I think an outcome short of full support will slow the euro's additional progress but will not bring it to an end. Two forces should continue apace no matter the outcome in France's votes for Parliament: the eurozone economic recovery and the implied march towards an imminent time when the European Central Bank (ECB) officially ends the immediate threat of additional monetary easing with signs of tightening.
Upcoming negotiations with the United Kingdom over Brexit also present a potential wildcard. For example, a resounding victory for Prime Minister Theresa May in the June 8th U.K. general election could set the euro back a bit. However, I will treat such a setback as another euro-buying opportunity given my belief in the above described two euro-forces.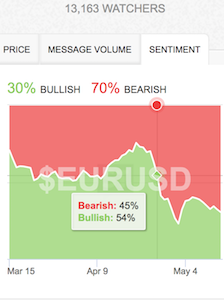 Source: StockTwits

Be careful out there!
Full disclosure: long EUR/USD, long FXE call options