The French people will make a final decision on a President in less than 24 hours from the time of writing. Financial markets are in a much different place now than they were two weeks ago ahead of the initial round of voting. Thanks to the "French Fly" optimism is riding high and all assumptions point to a positive outcome.
For example, the volatility index is barely trading above a 10-year low. Ahead of the first round, the VIX was elevated and trading around the all-important 15.35 pivot.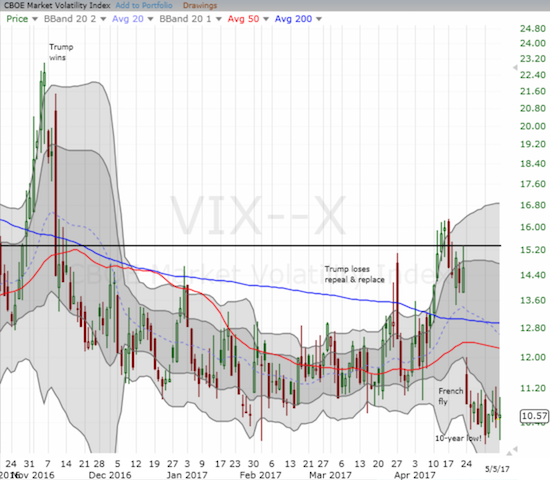 More directly related to the French election, the iShares MSCI France (EWQ) broke out and rallied sharply in the final two trading days ahead of the election. EWQ is now up 5.4% since the post French Fly close. EWQ has gained a whopping 11.6% since the trading day before the first round of Presidential voting.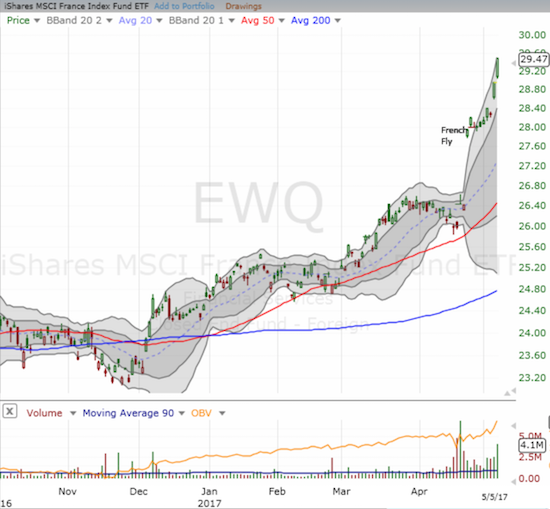 This surge of optimism has no doubt helped push currency speculators to their lowest net short position on the euro (FXE) in exactly 3 years. The last vestiges of bearishness have almost evaporated with just 1,653 net contracts sold short.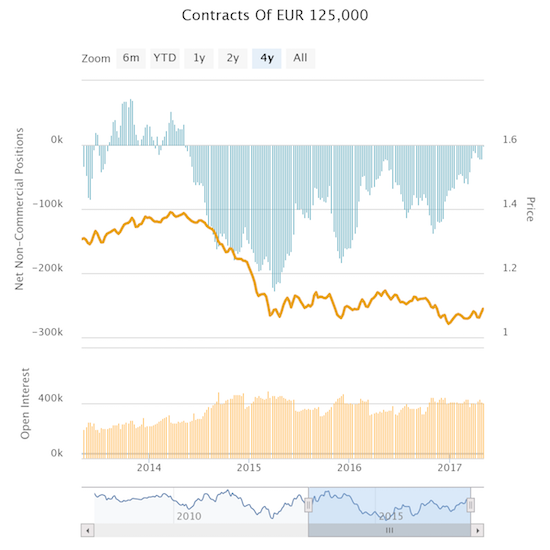 The large reduction in euro bearishness has in turn facilitated a bias toward strength for the euro. EUR/USD hit a level last seen in the immediate wake of the U.S. Presidential election. The near symmetry is pure poetry.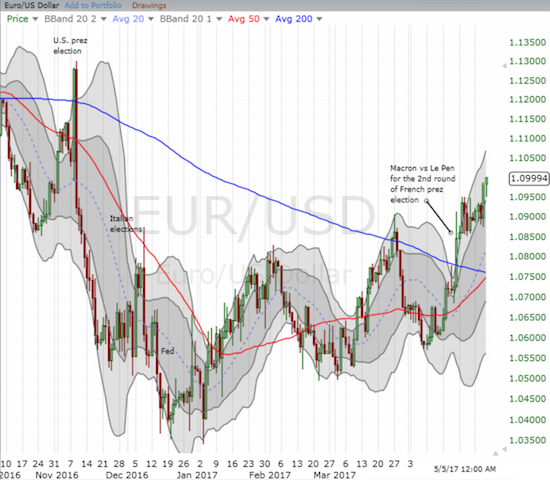 Source of charts: FreeStockCharts.com
All of this trading action further reinforces my bullishness on the euro and Europe in general. With the drama of the French election finally in the rear-view mirror, I am looking forward to making much more aggressive bets in-line with my euro-sentiment. Going into this weekend, I decided to clear out any and all euro-positive trades just as I did ahead of the first round…
Be careful out there!
Full disclosure: no positions