The Bank of England (BoE) has not raised interest rates since the Great Financial Crisis. During this time, there have been several inflation "scares" as inflation levitated well above the Bank's 2% target. Through it all, the BoE stood resolute in choosing to see through the elevated inflation in order to avoid premature rate hikes that would have strangled the recovering economy.
Earlier today, March 21st, the Office of National Statistics (ONS) reported that the Consumer Price Index (CPI) rose to 2.3% in February – its highest level since September, 2013. Likely the biggest surprise in the report was a sudden 0.3% rise in the price of food after 31 consecutive months of declines. If this move is an anomaly, inflation could easily flatten out in coming months.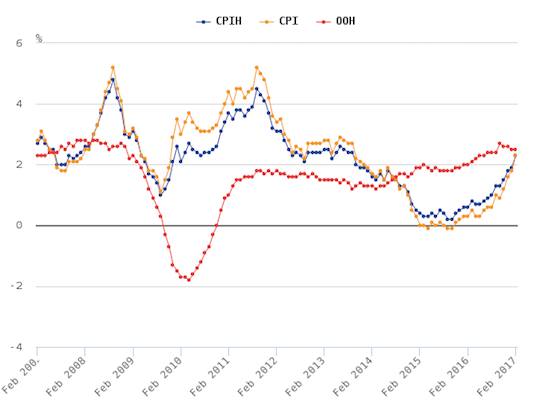 Source: The Office for National Statistics (ONS)
Starting with the February report, the ONS added a Consumer Prices Index including owner occupiers' housing costs (CPIH). According to the ONS: "CPIH extends the Consumer Prices Index (CPI) to include a measure of the costs associated with owning, maintaining and living in one's own home, known as owner occupiers' housing costs (OOH), along with Council Tax. Both of these are significant expenses for many households and are not included in the CPI."
The Bank of England anticipated the rise in inflation and as recently as last week's statement on monetary policy provided the following projection:
"CPI inflation increased to 1.8% in January, and the MPC expects it to rise above the 2% target over the next few months, before peaking at around 2¾% in early 2018 and drifting gradually back down towards the target thereafter. The projected overshoot entirely reflects the expected effects of the drop in sterling. Pay growth has remained subdued, while measures of inflation expectations remain at levels broadly consistent with the achievement of the inflation target."
So while the latest inflation reading caused enough surprise in currency markets to send the British pound soaring across all its major forex pairs, the BoE has no reason to respond to this inflation move with a rate hike…even as the BoE warned that it has a limit to the period of time it will tolerate above target inflation. I fully expect the next statement from the BoE to explain why it will look past above target inflation in anticipation of a return to target in 2019.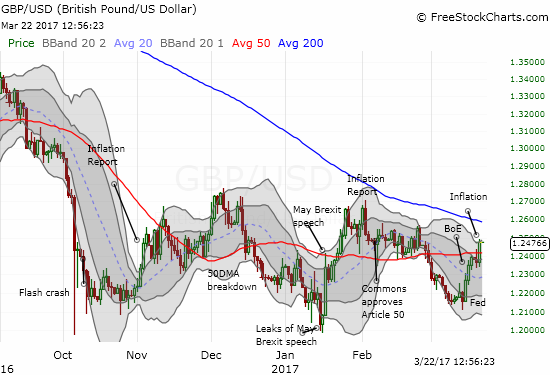 Source: FreeStockCharts.com
Thanks to this "hot" inflation number, my move to short the British pound became at least a day too early. Ironically, shortly after my post on trading the pound, GBP/USD fell from 50DMA resistance just as I would have hoped. Fatefully, I decided to sit on the position…looking past the coming release of the inflation report. Now, I await a potential test of declining 200DMA resistance while I cautiously add to my short position. From time-to-time, I may hedge the position with a long on pairs like GBP/CAD.
Be careful out there!
Full disclosure: short the British pound, long FXB