According to the latest CFTC data, speculators accumulated their largest net long position on the Canadian dollar (FXC) since February, 2013. This 4-year high in bullishness sticks out so much only because speculators have spent most of these four years being very bearish on the Canadian dollar. Prior to 2013, net longs were regularly 2 and 3 times current levels.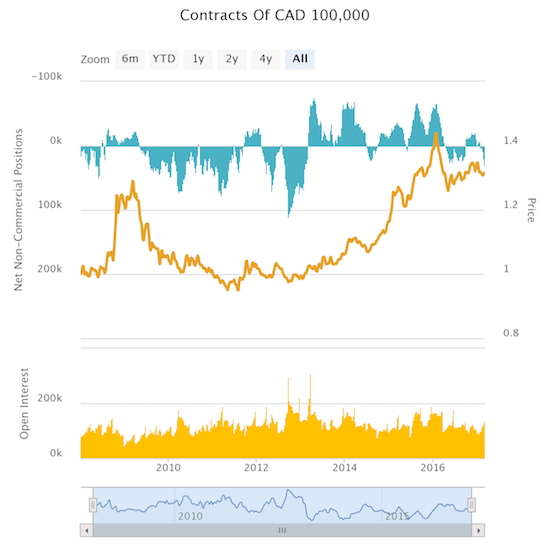 Source: Oanda's CFTC's Commitments of Traders
Ironically, this 4-year high collided into a swift sell-off for the Canadian dollar in the wake of U.S. dollar strength and more dovishness from the Bank of Canada. That strong momentum seemed to only end this past Friday in the wake of a sell-the-news type of reaction to U.S. Federal Reserve Chair Janet Yellen essentially confirming a rate hike at its March meeting in 10 days.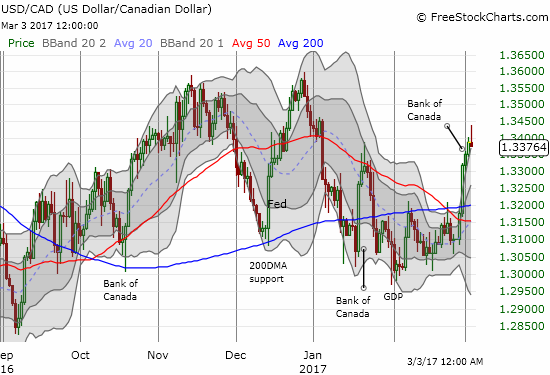 Source: FreeStockCharts.com
The collision between bullish speculators and a dovish Bank of Canada makes for quite the contrast. I tend to vote with the speculators, so I will treat the run-up in USD/CAD as an opportunity to short on the cheap. The fade on Friday seems to confirm a turn in momentum. My initial target is a return to the 200-day moving average (DMA).
The Bank of Canada's March 1st report on monetary policy was interpreted as dovish and rightly so. Despite an inflation rate hitting 2.1%, the Bank chose to treat this level as temporary and instead focus on "material excess capacity in the economy." Moreover, "while there have been recent gains in employment, subdued growth in wages and hours worked continue to reflect persistent economic slack in Canada, in contrast to the United States." Accordingly, the Bank held interest rates steady as it stuck to its dovishness from the January Monetary Policy Report.
Sentiment on the U.S. dollar (DXY0) will likely continue to dominate trading in USD/CAD. Even if USD/CAD continues higher from here, I find shorting USD/CAD an attractive (partial) hedge to my dollar long positions. I could consider stopping out above Friday's intraday high but more likely would patiently wait for a break of the 52-week high at 1.36. I will hit the reset button if the next round of CFTC of data reveal a substantial pullback in bullishness of speculators.
Be careful out there!
Full disclosure: short USD/CAD