AT&T (T) has apparently lost patience with customers who forgo TV packages to stream content with internet-only service. The company's newest pricing model greatly increases costs for these "cord-cutters."
On April 29, 2016, I received an email from AT&T (T) announcing a dramatic change to the company's internet service. No longer will AT&T tolerate unlimited use of internet bandwidth at current prices. AT&T has decided to implement a pricing model for its internet service that is very similar to the model it uses for data plans on smartphones.
Starting May 23, 2016, AT&T will establish a usage limit on internet service. If customers exceed that limit, AT&T will charge them $10 for each 50GB in excess of the limit. At least AT&T will cap the overage charge at $100 per month. I imagine heavy users of streaming services like Netflix (NFLX), Hulu, and YouTube can easily hit the allowance every month. Cord-cutters, like myself, are exactly the customers most likely to fall into this category of heavy user. For this reason, I feel AT&T's policy directly targets cord-cutters.
At the time of writing, AT&T does not provide specifics on the allowance or offer a way to review past internet usage. Customers may not be able to gauge their risk for exceeding AT&T's internet allowance until after May 23rd.
There are two things customers can do to reduce the cost of heavy internet use. My preferred option is to pay an additional $30/month to retain the "privilege" of unlimited internet use. This represents a VERY painful 67% price increase! AT&T also offers a bundling option. If customers subscribe to DIRECTV® or U-verse TV, AT&T will provide unlimited internet service. The bundle option is more expensive because of the leasing charge for a cable box and the minimum $100/$110 (DirectTV/U-Verse) customers must spend on the bundle with internet service minimally good enough for streaming. Separately, the lowest option for TV (DirectTV or U-Verse) is $50 and for minimal internet is $40. AT&T no longer offers a bargain basement option that only provides local TV channels.
Here is the message AT&T sent to customers:
"Beginning on May 23, 2016, we will be increasing the U-verse® Internet data allowance for many customers. After a grace period, and as our agreement provides, there's a $10 charge for each 50GB of data you use over the allowance amount. The maximum overage charge will be $100/mo. If you choose to bundle your U-verse Internet with DIRECTV® or U-verse TV you will be provided an unlimited Internet data allowance with a $30 value at no additional charge, as a benefit of bundling. Or if you choose, an unlimited allowance is available for purchase as an optional bolt-on to your Internet service for an additional $30/mo."
Notice how AT&T cleverly attempts to use marketing to ease the pain of this message. AT&T starts by giving the "good news" that data allowances have increased. Of course, customers had no idea AT&T had a data allowance in the first place. Next, AT&T positions the $30 price increase for unlimited internet as an added value of choosing a bundled option. Bottom-line, cord-cutting just got a lot more expensive!
I will very likely abandon ship and cut over to Comcast (CMCSA), aka Xfinity, for internet service. However, I strongly suspect Comcast will one day adopt AT&T's anti-cord-cutting pricing model. For now, cord-cutters can get Comcast's internet service minimally good enough for streaming for $50. For another $10, customers can get 10 local TV channels. For a limited time, customers who order this package online will also get HBO streaming through the Xfinity app. Given the issues I have had with my HD antenna's ability to receive local TV channels, I just MIGHT consider spending the extra $10 bucks….but I doubt I will go there anytime soon.
UPDATE. In certain areas of the country, Comcast implements what it calls "data usage plan trials" for certain customers. These plans generally enforce a 300GB cap. Customers can get unlimited internet by paying an extra $30-35 per month or by signing up for some other bundled plan. This is exactly the same pricing model as AT&T. I was just not aware of it since I have not had Comcast internet in a long time. In other areas of the country, Comcast gave up on caps. Here is Comcast's explanation:
"Effective May 17, 2012, we suspended enforcement of our previous 250 GB static cap while we trialed more flexible data usage plans. Our goal is to provide options that benefit consumers while also ensuring that all of our customers enjoy the best possible Internet experience over our high-speed Internet service. To accomplish this, we have been trialing improved data usage management approaches that are in step with plans that other Internet service providers in the market are using and will provide our customers with more choice and flexibility than our previous static cap."
Comcast's plans and rules and limitations are numerous and a bit involved. So before signing up for Comcast internet, I am definitely going to call and the details that apply to my specific locale!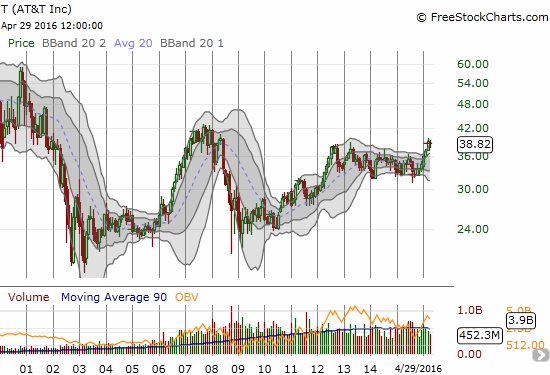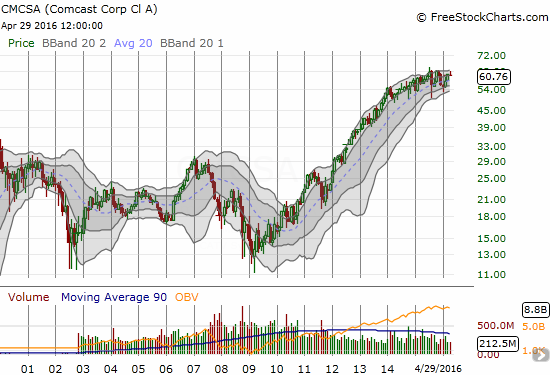 Source: FreeStockCharts.com