For what I think is the first time since the Fed rate hike in December, the market pushed out the timing of the next rate hike.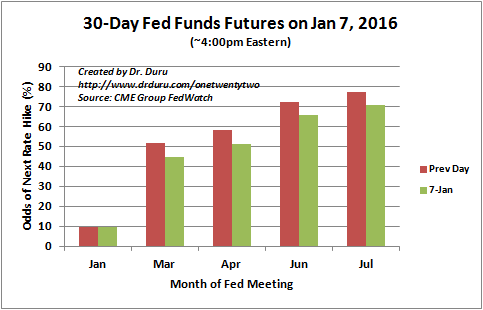 Source: CME Group FedWatch
The presumed change in heart has come from the trading chaos in China. Back in September, the Fed used out-sized volatility coming from China's devaluation of the yuan as a proximate excuse to hold off rate hikes one more time. Today's raucous behavior certainly has echoes from last year's Fed-halting episode. So, it makes sense that a freshly nervous market would back off its rate hike predictions.
This small shift is important given consensus has come to believe 2016 would contain 4 rate hikes – that window just tightened. The idea of 4 rate hikes for 2016 was most recently promoted by Federal Reserve Vice Chairman Stanley Fischer. From Reuters:
"Federal Reserve Vice Chairman Stanley Fischer said on Wednesday that four rate hikes by the U.S. central bank this year is close to his expectations, but added that global uncertainty could still veer this path off course.

'My view is that those numbers are in the ballpark'…"
Such predictions are nearly meaningless when the fundamental rule remains data dependent. The Fed has repeated a maddening number of times that no formula exists for rate hikes even as the Fed expects a very gradual path upward. A quick search on "Federal Reserve Fisher rate hike" quickly reveals how frequently Fisher has been off the mark on predicting the timing of the Fed's actual course of action. But the market needs SOMETHING for hanging its collective hat, so Fed prognosticating presents a convenient and easy default. Financial media are also hopelessly latched to Fed-gazing (so we traders need to pay attention too!).
Alongside the timing pushout, the U.S. dollar index (DXY0) wiped out all its gains for the week. The index sits right back at its level shortly after the Fed hikes its interest rate.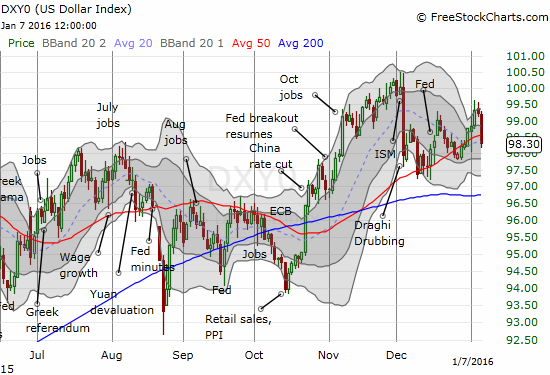 Source: FreeStockCharts.com
The market's reaction to the U.S. jobs report for December, 2015 will provide another window into how the U.S. dollar index may trade in correlation with changes in the odds for future rate hikes. For now, I am sticking by my extended bullish positioning.
Be careful out there!
Full disclosure: net long the U.S. dollar