I recently read an article that attempted to dive into the nuances of trading the United States Oil ETF (USO) versus the United States Gasoline ETF (UGA). I suddenly realized that through all the nuanced comparisons the forest was being lost for the trees. Since at least 2009, UGA has greatly outperformed USO. In fact, the dominance is so great that for longer-term holders UGA is the clear winner.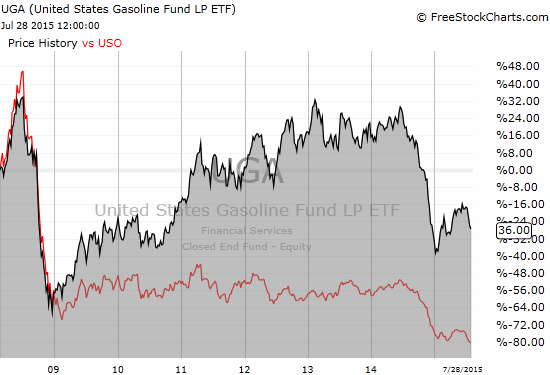 Source: FreeStockCharts.com
A pairs trade shorting USO versus going long UGA is an even better long-term strategy and would have delivered positive long-term gains despite the recent plunge in the oil patch. Most of these gains come thanks to the accelerated out-performance of UGA over USO in 2015.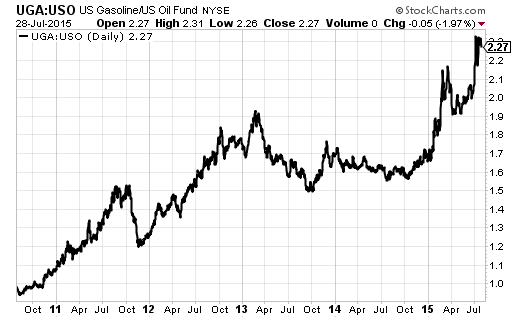 Source: StockCharts.com
These charts make me rethink how I approach the oil trade (for example, see "The Commodities Crash Accelerates: Scenarios for Trading Oil"). My only hesitation from jumping on a trade that assumes UGA out-performance over USO is that the UGA/USO ratio has accelerated so much in 2015 that a pullback seems to be very likely just from a technical standpoint. Moreover, USO seems very likely to bounce soon and initiating a short would be much better to do at higher prices from current levels.
Note that I have executed the USO rangebound trade as described in the earlier piece.
Be careful out there!
Full disclosure: long USO call options, short USO call and put options