Yesterday, March 24th, Twitter (TWTR) made an impressive breakout above the $50 battle line which defines the TWTR's intraday high on its first day trading. Seeing the bullish move, it occurred to me I had not updated my comparison chart of internet stock valuations in a very long time. As luck would have it, I am posting this after TWTR nearly reversed all of its breakout gains. Overnight, TWTR has gone from breakout to fake-out in a move that has the appearances of a blow-off top.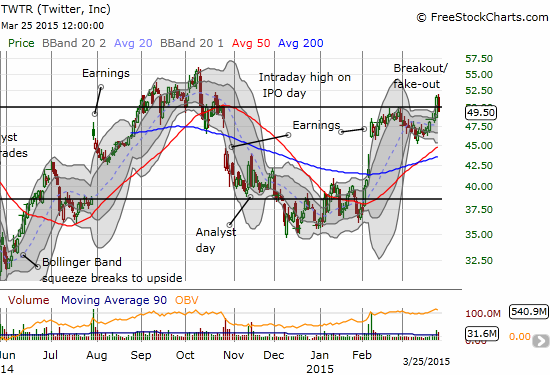 Source: FreeStockCharts.com
Twitter is a key company and stock because it remains the poster child for the high premiums some companies can still command in the internet-related sector. The chart below arranges a select group of these stocks from left-to-right in ascending order of valuation based on the price/sales ratio. As a reminder, I use P/S because of the prevalence of money-losing companies in this space. The P/S ratios come from Yahoo!Finance. Also note that some of the companies have non-internet businesses, and this list is not a comprehensive collection of internet-related companies.
Click for a larger image…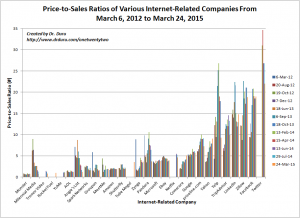 I added two new companies, Rocket Fuel (FUEL) and Tube Mogul (TUBE), both recent IPOs. Dropping off the list are Open Table, Trulia, and Velt. The first two have been acquired. Velt is now a penny stock hardly worth following.
Note that many of these companies have experienced declining valuations through revenue growth and/or price declines on the stock. Twitter's valuation has declined rapidly. This move has greatly compressed the valuation gap with Zillow (Z) and Facebook (FB) which are essentially equivalent. Valuations fall off rapidly from there to around a 5 P/S ratio. This "premium" group is an interesting mix of companies which have experienced valuation compression and expansion. In other words, traders cannot treat these higher/high-priced stocks as the same monolithic beast.
I like to look at how shorts and options traders are reacting to stocks. Unfortunately, the picture is a bit mixed for Twitter right now. Options traders have responded to Twitter's huge post-earnings gap up by rushing for put options over call options. They have been largely disappointed. Their timing was similarly poor through much of 2014.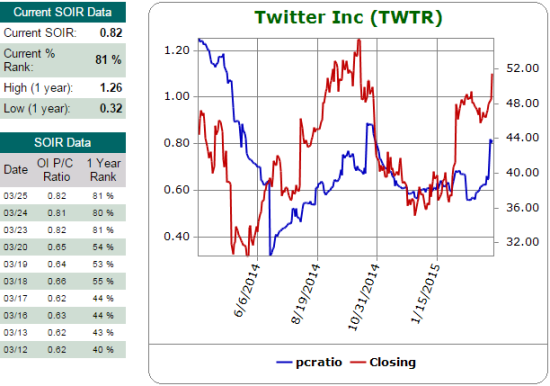 Source: Schaeffer's Investment Research
Short interest has been on the decline and is reaching lows from late last year. Lately, shorts have absolutely nailed their timing. Shorts ramped up into TWTR's late 2014 decline as the stock suffered a post-October earnings hangover. As the stock hit rock bottom, shorts began locking in profits. I strongly suspect that today's topping action is going to re-attract a lot of short activity. Shorts are only 4.8% of TWTR's float, so there is a LOT of room left on the Twitter bear-wagon.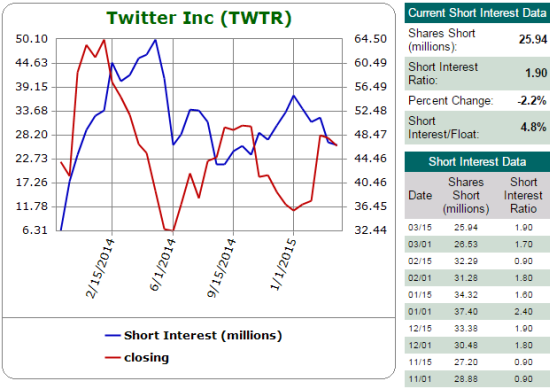 Source: Schaeffer's Investment Research
The reversal today provides an easy and clear stop for any shorts. For those interested in going long, waiting for this reversal to play out some more will likely be time well spent. Twitter may not be good for much longer than a quick swing trade for the foreseeable future.
For the rest of the internet-related bunch, traders should note that, in general, valuations have actually come down. It is also not enough to sweep all these stocks with a broad brush given the different variations in valuation trends. This situation tells me that pairs trades may offer particularly attractive, low risk trades. Stay tuned!
Be careful out there!
Full disclosure: long and short a mix of the stocks in the chart but no position in TWTR