(T2108 measures the percentage of stocks trading above their respective 40-day moving averages [DMAs]. It helps to identify extremes in market sentiment that are likely to reverse. To learn more about it, see my T2108 Resource Page. You can follow real-time T2108 commentary on twitter using the #T2108 hashtag. T2108-related trades and other trades are posted on twitter using the #120trade hashtag)
T2108 Status: 43.4%
VIX Status: 16.1
General (Short-term) Trading Call: Short (fade rallies)
Active T2108 periods: Day #195 over 20%, Day #47 over 40% (over-period), Day #3 under 50% (under-period), Day #3 under 60%, Day #7 under 70%
Reference Charts (click for view of last 6 months from Stockcharts.com):
S&P 500 or SPY
SDS (ProShares UltraShort S&P500)
U.S. Dollar Index (volatility index)
EEM (iShares MSCI Emerging Markets)
VIX (volatility index)
VXX (iPath S&P 500 VIX Short-Term Futures ETN)
EWG (iShares MSCI Germany Index Fund)
CAT (Caterpillar).
Commentary
Quasi-oversold conditions were so solid that even General Motors (GM) bounced on Monday, April 14, 2014. The stock once again demonstrated the potential in playing reversals from over-extensions beyond Bollinger Bands (BB). The stock gained 1.9%, closing right at its lower-BB.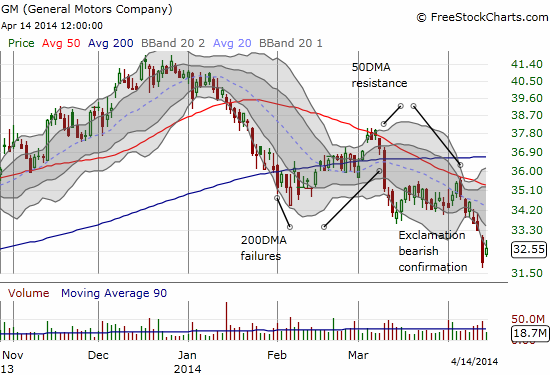 T2108 also bounced back by closing right at its lower-BB at 43.4%. The S&P 500 (SPY) recovered almost all its losses from Friday although it was not a sure thing by any stretch. The index opened well and held into lunch. With bellies full, traders proceeded to sell hand over fist again. Amazingly, after punching out new lows for the day, the S&P 500 sprinted into the close and within a hair of its high on the day. This bounce saved the T2108 Trading Model's (TTM's) prediction for an up day. In the last T2108 Update, I neglected to mention that if Monday opened with a gap down, I would buy for a (hopefully) quick trade. With the TTM's strong prediction, I definitely was not going to try chasing the market downward. A gap down would have provided a good risk/reward play given the prediction. The strong open compelled me to fade (note that the TTM only predicts one day out).
I post the intra-day chart below in case I need to refer to today as a major turning point.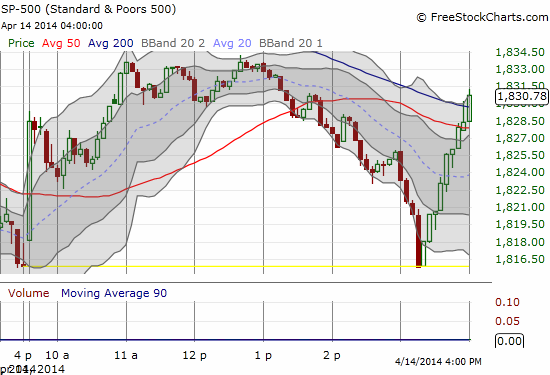 The late sprint did not quite return the NASDAQ (QQQ) its Friday losses. Per the trading call and the strategy I discussed in the last T2108 Update, I faded the bounce. I also made the switch from PowerShares QQQ (QQQ) puts to ProShares UltraShort QQQ (QID) call options. This is a first tranche, and I will fade more if the major indices continue bouncing into overhead resistance: the 50DMA for the S&P 500 and, for now, the rapidly declining 20DMA for the NASDAQ.
This is a holiday shortened week, so I am suspecting the rest of the way through Thursday may be pretty calm. In the meantime, I am mulling over what trading strategies could work on IPOs. In "Is hot market for IPOs cooling"?, I discovered some great IPO-related statistics and an IPO-related ETF I had never heard of before: Renaissance IPO ETF (IPO). IPO provides broad exposure the the last two years of new issuance. It is probably no accident that IPO was released into the market shortly after IPOs in this category gained an astonishing 63.3% in 2013. That kind of performance is unlikely to get repeated for a while.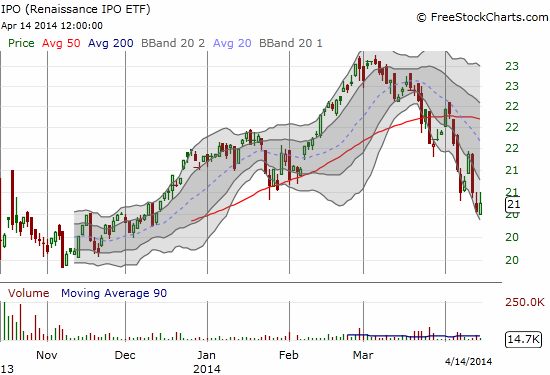 Interestingly, since its inception, IPO has performed just as well as the NASDAQ and PowerShares S&P 500 High Beta (SPHB). Even MORE fascinating is the near inverse performance of iShares MSCI Emerging Markets (EEM) over two key periods. I see the beginnings of some trade ideas here. Stay tuned…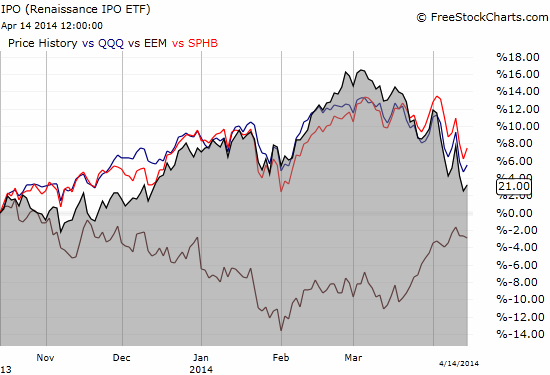 Daily T2108 vs the S&P 500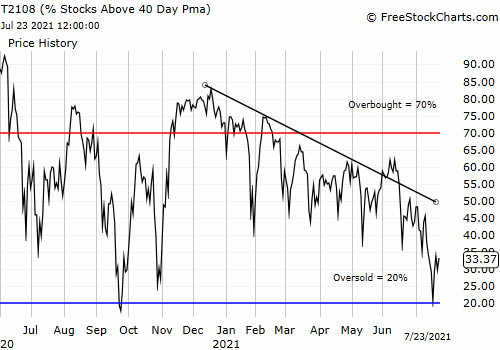 Black line: T2108 (measured on the right); Green line: S&P 500 (for comparative purposes)
Red line: T2108 Overbought (70%); Blue line: T2108 Oversold (20%)
Weekly T2108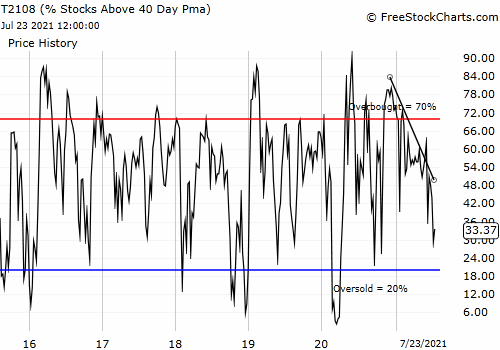 *All charts created using freestockcharts.com unless otherwise stated
Related links:
The T2108 Resource Page
Expanded daily chart of T2108 versus the S&P 500
Expanded weekly chart of T2108
Be careful out there!
Full disclosure: long SSO puts, long EEM calls and puts, long QID calls, long SPHB