(T2108 measures the percentage of stocks trading above their respective 40-day moving averages [DMAs]. It helps to identify extremes in market sentiment that are likely to reverse. To learn more about it, see my T2108 Resource Page. You can follow real-time T2108 commentary on twitter using the #T2108 hashtag. T2108-related trades and other trades are posted on twitter using the #120trade hashtag)
T2108 Status: 67.4% (ends 1-day long overbought period)
VIX Status: 16.0
General (Short-term) Trading Call: Short
Active T2108 periods: Day #165 over 20%, Day #11 over 60% (overperiod, Day #1 under 70% (underperiod)
Reference Charts (click for view of last 6 months from Stockcharts.com):
S&P 500 or SPY
SDS (ProShares UltraShort S&P500)
U.S. Dollar Index (volatility index)
EEM (iShares MSCI Emerging Markets)
VIX (volatility index)
VXX (iPath S&P 500 VIX Short-Term Futures ETN)
EWG (iShares MSCI Germany Index Fund)
CAT (Caterpillar).
Commentary
As I suspected might happen, the overbought period was short-lived. T2108 closed at 67.4%, ending the last overbought period at a 1-day duration. The S&P 500 (SPY) peeled back less than a percent and completed an ominous fade from all-time highs. All the indicators are lined up for another sharp sell-off, perhaps much like the one in late January.
If the S&P 500 manages to close at a fresh all-time high, it will likely be the beginning of an extended overbought rally. Until then (if it happens), volatility bears a close watch. In the last T2108 Update, I quipped that volatility had not yet "conceded." Indeed, ProShares Ultra VIX Short-Term Futures ETF (UVXY) was printing a bottoming type of pattern. Today's rip higher confirmed the (temporary) bottom.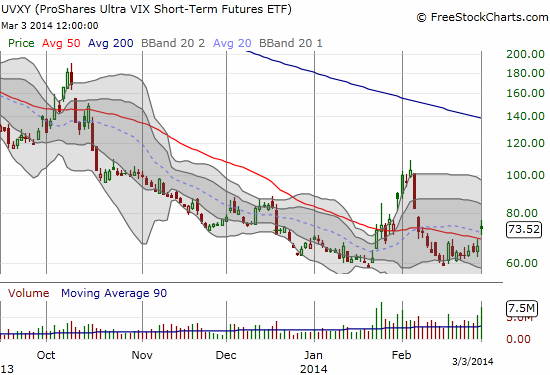 I started the trading day looking for an opportunity to fade volatility. However, I changed my plans after seeing UVXY fade right from the open. The Ukraine headlines are still fresh and developments are unfolding; I figured it was far too soon for this burst of volatility to end. Accordingly, I bought the intraday dip as I would any trade off an apparent confirmed bottom. I felt like a genius for a little while as UVXY eventually pushed to its highs on the day. It was VERY tempting to bail immediately, but I decided to stick with the trade and see whether this week can deliver some follow-through.
In the last T2108 Update, I made a small mistake in characterizing typical trading in March. While it is true that March is one of the least volatile months of the year in terms of its range from high to low, this behavior does NOT equate to a relatively safe month. In "Beyond The January Barometer: A Nuanced View Of Monthly Vs. Yearly S&P 500 Performance," I created a chart showing that since 1951 March delivers one of the highest frequencies of down performances. So, the odds are very much in the bears' favor here with the month starting off on this down note.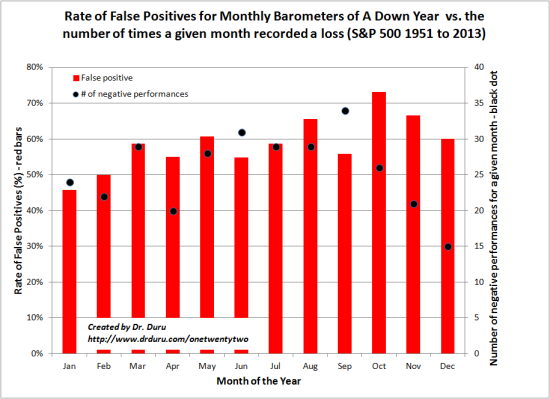 I conclude with one chart review: Tesla Motors (TSLA). On down days like today, high beta, highly speculative stocks are supposed to suffer the most. TSLA did take a tumble but managed a strong and convincing intraday comeback. I point out this chart because the bounce was a picture-perfect move off the first upper Bollinger Band (BB). This approximate support line has guided TSLA higher for the past three months. I only wish I had been on top of this trade in real-time!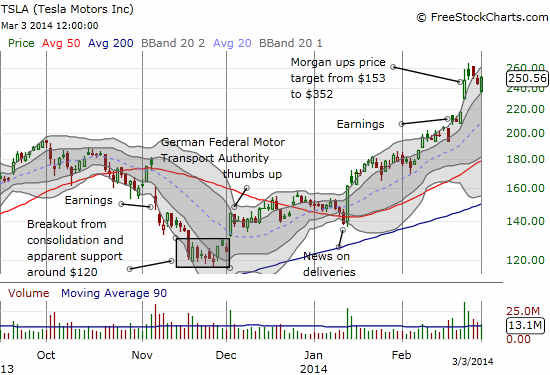 Daily T2108 vs the S&P 500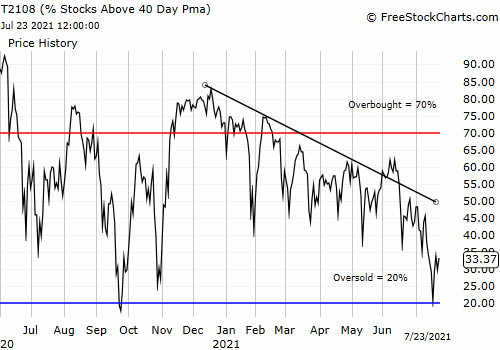 Black line: T2108 (measured on the right); Green line: S&P 500 (for comparative purposes)
Red line: T2108 Overbought (70%); Blue line: T2108 Oversold (20%)
Weekly T2108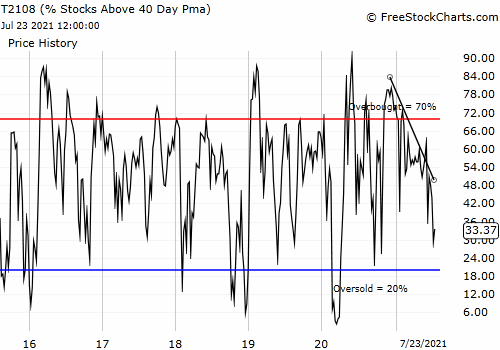 *All charts created using freestockcharts.com unless otherwise stated
Related links:
The T2108 Resource Page
Expanded daily chart of T2108 versus the S&P 500
Expanded weekly chart of T2108
Be careful out there!
Full disclosure: long SSO puts, long UVXY shares