I typically do chart reviews in my T2108 Updates, but I felt the urge to post this one as soon I as could.
Ever since Netflix (NFLX) surprised me with a big post-earnings surge on January 23, 2014, I have been touting the potential bullish setup on the stock. The stock's "rest" from the post-earnings surge was very brief, and, much to my chagrin, the scenario I thought I would avoid happened anyway: a fresh all-time high with no position in hand!
The setup for NFLX has gotten more and more bullish in the past two weeks. The first new, post-earnings all-time completed a successful test of support at the first Bollinger Band (BB). (See chart below). The stock then consolidated for seven trading days, cooling off the hit at the upper-BB. And then, today, a fresh surge with a solid close at the day's highs. There is no natural overhead resistance until the upper-BB around $445. Even more importantly, NFLX is showing the early signs of a fresh uptrend. If the stretches from August to October and November to December are any indication, NFLX could continue upward for weeks to come. The move may come in fits and drips, but it is likely to push onward and upward.
Bullish call spreads are great plays in these scenarios to limit downside risk while paying for upside potential at a discount. If NFLX simply followed the pattern of the last post-earnings uptrend that started around November 14, 2013 at a close of $342.57, it would gain 11% in almost 6 weeks. An 11% gain from the first post-earnings close on January 23rd would peg NFLX at $432, right above where it is trading now. So, the current trend is already stronger than the last one. If I can get a dip on NFLX, all the better for starting a position. I will be targeting the monthly March $445/460 call spread. This needs NFLX to gain another 7% in 6 weeks for a roughly 200% profit (a triple in value). Stay tuned! When I open this trade, I will tweet it with the #120trade hashtag.
Click image for a larger view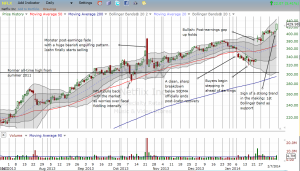 Source: FreeStockCharts.com
Be careful out there!