Today (June 6th), I FINALLY closed out my long-standing short position in Facebook (FB), leaving one solitary put to capture what might remain of the current distribution process of the stock by eager sellers (I announced the trade on twitter using the #120trade hashtag). This time delivered a fascinating ride and required an exercise in more patience than I typically have for trades.
Ever since late January when I insisted that FB was reaching some kind of peak in misplaced bullish sentiment, the stock has declined in fits and spurts. This past week was a classic example. On May 29th, the stock declined to fresh lows for the year and looked ready to accelerate its plunge. Instead, two well-timed analyst upgrades sent the stock soaring the very next day. If I did not already have on a short position, I would have started one even though the large gap up created the notorious abandoned baby bottom. This kind of bottom happens when a gap down and then a gap up traps bears who were anticipating further losses. However, in this case, the stock was running right into resistance from its 200-day moving average (DMA). Now, it has dropped four days in a row from resistance for a fresh 2013 low.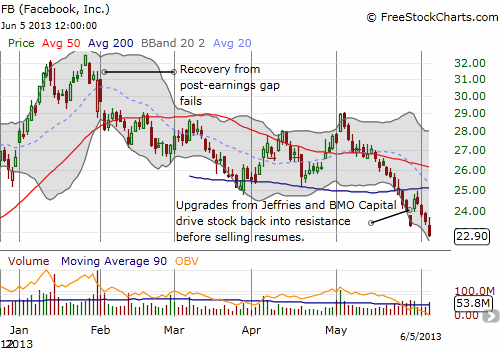 Source: FreeStockCharts.com
Most interesting to me on FB sentiment is that the price decline has not attracted much attention from short sellers. Currently, short interest is only 1.6% of the total float (yes, there are a LOT of shares: 1.48B float and still 2.42B outstanding). The chart below shows that since I wrote in late January, shares short did rise for two months. The peak of this run coincided with a bottom in the stock marked by a large surge in the stock on March 27th.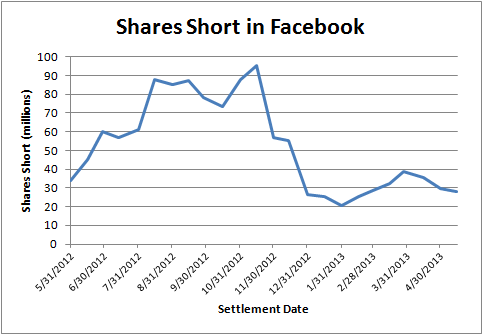 Source: NASDAQ.com short interest
From short interest alone, sentiment is certainly not negative however it does seem roughly inversely correlated to price.
Next up is the open interest put/call ratio. Here again, the price declines did not generate much interest from bearish traders. The open interest put/call ratio remained low and within a tight range until a brief surge directly ahead of the May price peak broke the pattern. The put/call ratio has been rapidly declining along with price ever since. This ratio now sits at an all-time low, indicative of bullish sentiment.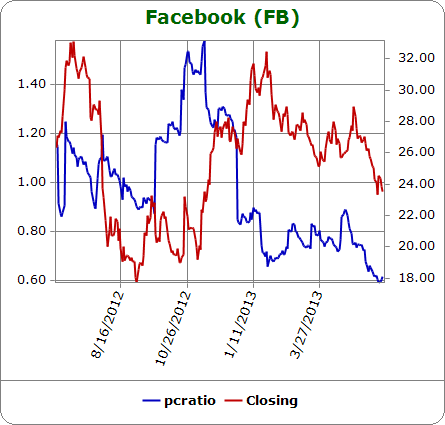 Source: Schaeffer's Investment Research
Rounding out the relatively bullish sentiment are analysts. There are different sources for these data; I am OK if they are at least consistent with each other. Analysts have so far been undeterred by the price declines.
Here are the breakdowns from two data sources:
Schaeffer's: 19 strong buy, 2 buy, 9 hold, 0 sell
Yahoo!Finance: 10 strong buy, 11 buy, 13 hold, 1 underperform, and 1 sell
The data diverge more than the last time I checked, but the message remains bullish overall.
So, overall, sentiment on FB remains remarkably bullish despite the on-going distribution of the stock. These sentiment checks are important because they provide important context. A price decline that garners little bearish interest is a decline that will maintain a lot of fuel from buyers turning into capitulating sellers. The same is true when a stock is soaring, and it meets nothing but skepticism, shorts, and put buying. When I was short FB, I had good company by not having much company. And thank goodness because last month numerous highly shorted stocks caught a lot of attention from buyers forcing short squeezes.
I am maintaining an ultimate downside target of $20 at some point this year. This is symmetry with the bizarre surge in the stock price after the November lock-up expired. Since the strong buying made no sense, the default conclusion in the media seemed to be that it was a vote of confidence in the shares. I choose to see it as a counter-trend/contrary trade. Shares short were at their highest point ever in Facebook at that time. It is even possible that part of the initial move was driven by short sellers eager to take their profits. Yet another example of how a crowded trade can accompany contrary stock moves.
Be careful out there!
Full disclosure: long FB put