(T2108 measures the percentage of stocks trading above their respective 40-day moving averages [DMAs]. To learn more about it, see my T2108 Resource Page. You can follow real-time T2108 commentary on twitter using the #T2108 hashtag. T2108-related trades and other trades are posted on twitter using the #120trade hashtag)
T2108 Status: 24.9%
VIX Status: 21.7
General (Short-term) Trading Call: Hold (click here for a trading summary posted on twitter)
Reference Charts (click for view of last 6 months from Stockcharts.com):
S&P 500 or SPY
SDS (ProShares UltraShort S&P500)
U.S. Dollar Index (volatility index)
VIX (volatility index)
VXX (iPath S&P 500 VIX Short-Term Futures ETN)
EWG (iShares MSCI Germany Index Fund)
CAT (Caterpillar)
Commentary
T2108 nudged back down to 24.9% in what turned into a very disappointing day for bulls. It started with the S&P 500 rallying strong for a 1%+ gain that looked like strong follow-through to yesterday's surge. Today's highs took the S&P 500 right under the first line of resistance around 1335 formed by the relief rally from May's oversold period. I was hoping the index could hold its own at this line. Instead, the S&P 500 faded so hard, it closed slightly down for the day.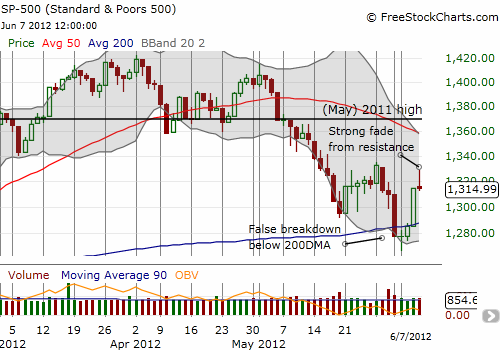 So, the technical outlook continues to change at a rapid pace. In yesterday's T2108 Update, I said:
"The S&P 500′s false breakdown below the 200DMA provides a great dividing line between a bullish and bearish trading bias (short-term). As long as the index remains above the 200DMA, and below resistance levels, trading bullishly is the better risk/reward play. There is no need to get overly bearish again until sellers manage to break through to new lows below the 200DMA."
In this quote, I failed to acknowledge (and reiterate) the first line of resistance. The strong fade from this line IS a bearish event. I am sure bears reloaded on shorts around today's highs, but I was not in that mindset with T2108 so freshly exiting the last oversold period.The S&P 500 is now in a dangerous spot that is difficult to trade. The onus now returns to the bulls to push the index above resistance, but it seems unlikely for at least a few days. Even if/once resistance is overcome, the 50DMA is declining fast overhead and will present a formidable challenge. Bears might target the 200DMA for shorting but will soon confront oversold conditions which could quickly turn on them all over again.
Today's fade suggests to me that T2108 could go oversold again as early as next week. Moreover, the VIX bounced directly off the critical 21 level that marks the start of last summer's swoon. This keeps us on "volatility alert."
So, overall, I am in a "wait and see" mode. I have to temper my short-term bullishness, but I cannot get overly bearish either.
Key trades…As I indicated yesterday, I sold the remaining 1/3 of my SSO calls at the open. The morning's surge gave me the exact follow-through I was expecting over the final two days of this week (the earlier, the better!). I re-opened puts on JPMorgan Chase (JPM) as the stock crossed below the flatline level again. The Federal Reserve is tightening capital requirements for banks and that is NOT going to help profits. This action may even be another signal of concern about the European sovereign debt crisis. Either way, as long as JPM remains below its 200DMA, a bearish bias seems quite appropriate.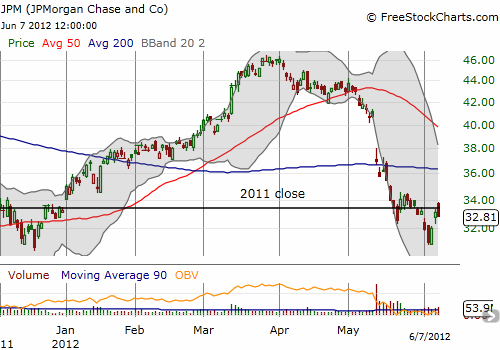 Black line: T2108 (measured on the right); Green line: S&P 500 (for comparative purposes)

Weekly T2108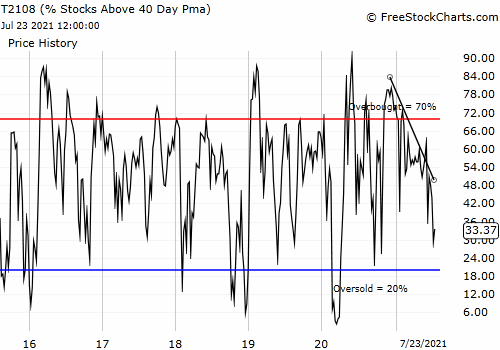 *All charts created using freestockcharts.com unless otherwise stated
Related links:
The T2108 Resource Page
Expanded daily chart of T2108 versus the S&P 500
Expanded weekly chart of T2108
Be careful out there!
Full disclosure: long SDS, long VXX calls, long JPM puts