(T2108 measures the percentage of stocks trading above their respective 40-day moving averages [DMAs]. To learn more about it, see my T2108 Resource Page. You can follow real-time T2108 commentary on twitter using the #T2108 hashtag. T2108-related trades and other trades are posted on twitter using the #120trade hashtag)
T2108 Status: 71% (overbought day #42)
VIX Status: 17.2
General (Short-term) Trading Call: Close more bullish positions. Begin but do NOT expand an existing bearish position.
Reference Charts (click for view of last 6 months from Stockcharts.com):
S&P 500 or SPY
SDS (ProShares UltraShort S&P500)
U.S. Dollar Index (volatility index)
VIX (volatility index)
VXX (iPath S&P 500 VIX Short-Term Futures ETN)
EWG (iShares MSCI Germany Index Fund)
Commentary
All signals continue to point to the long overdue end to this historic overbought period. T2108 plunged to 71%. For such a long overbought period, I could even argue that this is "close enough" to the end. However, the S&P 500 has barely budged so such a declaration would seem a bit "empty" here.
In my last update of February, I provided a reminder of the signals that pointed to this end. Friday's plunge to 71% was surprising only in contrast to the fractional change in the S&P 500. The chart below reminds us that the index is still pushing through stiff resistance. The current "breakout" to multi-year highs remains very marginal.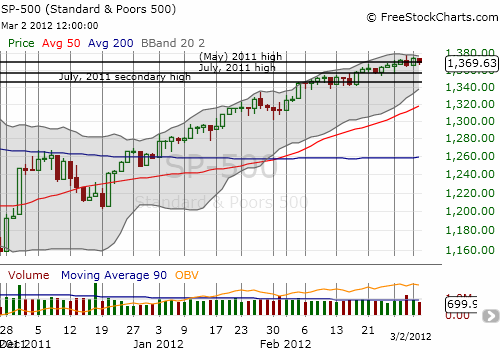 The main bright spot for bulls is that Friday's selling did not make a new low for the week and featured low volume. Not to mention the current uptrend is well intact. However, without T2108 we may not have even noticed the waning momentum (remember, T2108 measures ALL NYSE stocks). Think about it this way – the strongest stocks remain strong (think stocks like Caterpillar, Apple, IBM, and even Intel) while the most marginal participants in the rally have finally succumbed to waning buying interest. The next key is the length of time the steadily thinning ranks of leaders can continue to prop up the major indices. While the S&P 100 shows little difference from the S&P 500, a fissure has appeared in small cap stocks. The iShares Russell 2000 Index Fund ETF (IWM) went nowhere throughout most of February and is now approaching February's lows (kudos to Doug Kass for pointing this out). However, the iShares Russell 1000 Index Fund ETF (IWB) RALLIED through most of February and is as strong as ever. Your perspective on the health of this rally completely changes depending on where you look!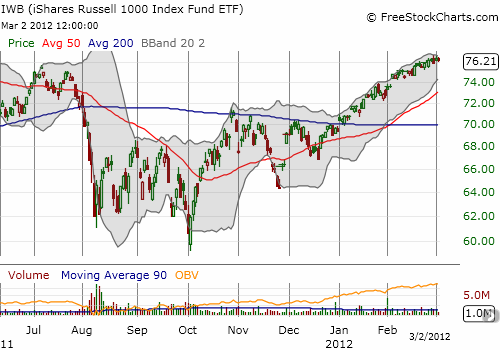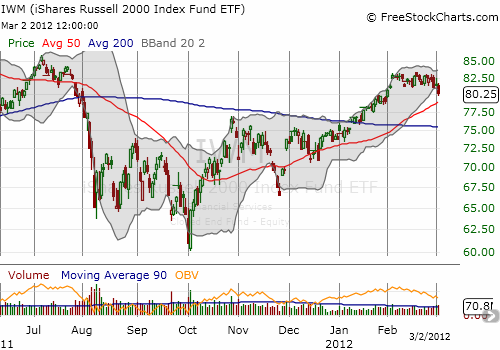 Note well that I have not spent much time studying small cap stocks in any systematic way, so I cannot say whether there is any historical data to suggest that this divergence between IWM and IWB means much. This divergence DOES seem to support the notion that T2108 is exposing the first real weakness in the current rally.
I conclude with a reminder of caution. The end of this overbought period does NOT mean that a bear market is about to erupt. The historical record suggests that the largest pullback we can expect is about 7-8%. Such a sell-off is just as likely to occur as a more modest 1-2% drop. This overbought period ranks #7 in duration since 1986. All of the top ranked overbought periods were part of larger, on-going rallies. Only in 1987, did a major sell-off eventually erupt…and that crash was in itself a rare event. Here is my casual description of what happened following the end of each of the top six overbought periods. The links go to snapshots of the related periods:
For now, I am guessing this cycle is more like 2009 and 2010 than the others.

Charts below are the latest snapshots of T2108 (and the S&P 500)
Refresh browser if the charts are the same as the last T2108 update.


Black line: T2108 (measured on the right); Green line: S&P 500 (for comparative purposes)

Weekly T2108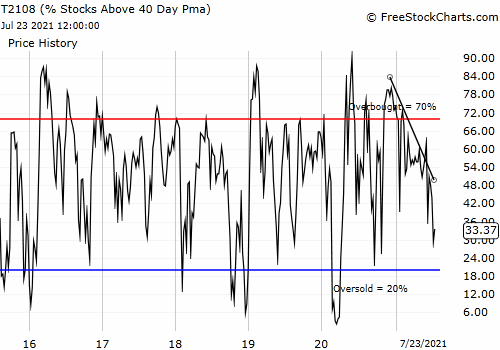 *All charts created using freestockcharts.com unless otherwise stated
Related links:
The T2108 Resource Page
Expanded daily chart of T2108 versus the S&P 500
Expanded weekly chart of T2108
Be careful out there!
Full disclosure: long SDS and VXX; long VXX puts