A funny thing happened after I declared the "fun is done" in solar stocks: Suntech Power Holdings (STP) pre-announced higher than expected revenues and financial results for its fourth quarter, and SunPower Corporation (SPWR) reported earnings that gave solar traders and investors fresh hope. At one point, SPWR broke out from a nice consolidation above its 50-day moving average (DMA) with a 27.5% gain. The breakout was significantly smeared by a rush of selling from those highs. By the end of the day, SPWR's monster gain was whittled down to "only" 8.7%. Anyone who has traded solar stocks for a while knows this post-earnings fade as the signature reversal so common with solar stocks. It is solar's typical warning sign of declines to come.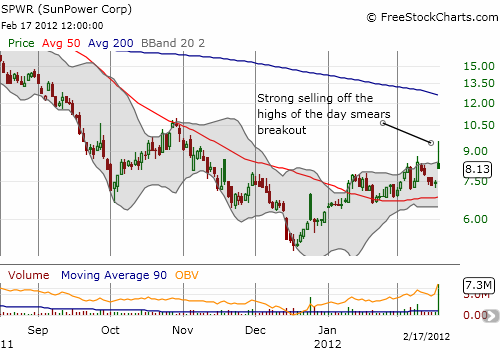 Source: FreeStockCharts.com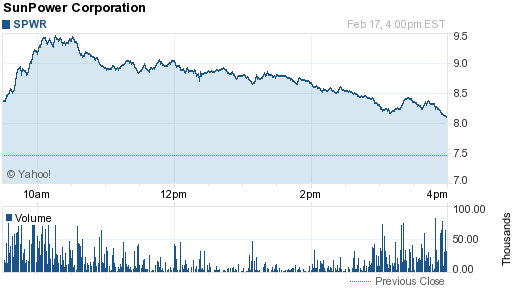 Source: Yahoo!Finance
STP experienced a similar fade. At one point the stock was up 16.6%, but it ended the day with a more modest 8.3% gain. STP remains well off recent highs.
The excitement also infected First Solar (FSLR). FSLR had the simultaneous good fortune of an analyst speculating that the company will resolve its permitting issues and achieve Department of Energy (DoE) funding. While the stock also experienced a heavy fade from the highs, at least the stock gapped up and reachieved a critical technical level. FSLR has returned to its former uptrend off the December lows. Moreover, the gap up "trapped" sellers who may have been shorting the stock after it broke down from recent highs to the 50DMA. These shorts are feeling serious regret and likely itching to cover sooner than later. I suspect after that buying pressure recedes, FSLR will lose its momentum – unless it pulls off a neat magic trick in its next earnings report (coming this month?).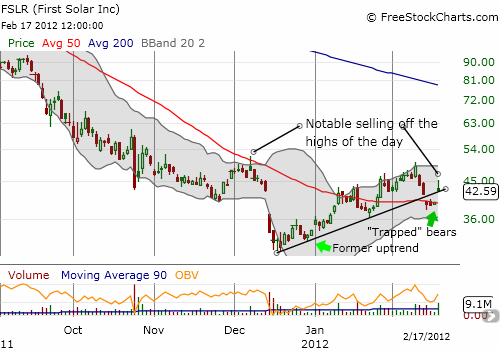 Source: FreeStockCharts.com
I took advantage of the pop to sell a covered call against my current position. The extra pre-earnings premium helped make this a very attractive trade. I also purchased another round of puts made cheaper by the run-up but also including a pre-earnings premium. (The resulting position is a type of collar).
Be careful out there!
Full disclosure: long FSLR shares and puts, short FSLR call