(T2108 measures the percentage of stocks trading above their respective 40-day moving averages [DMAs]. To learn more about it, see my T2108 Resource Page. You can follow real-time T2108 commentary on twitter using the #T2108 hashtag. T2108-related trades and other trades are posted on twitter using the #120trade hashtag)
T2108 Status: 84% (overbought day #29)
VIX Status: 19.0
General (Short-term) Trading Call: Close more bullish positions. Begin but do NOT expand an existing bearish position.
Reference Charts (click for view of last 6 months from Stockcharts.com):
S&P 500 or SPY
SDS (ProShares UltraShort S&P500)
U.S. Dollar Index (volatility index)
VIX (volatility index)
VXX (iPath S&P 500 VIX Short-Term Futures ETN)
EWG (iShares MSCI Germany Index Fund)
Commentary
So much for volatility. After a large pop as high as 17% on Friday, volatility plunged today giving back ALL its one-day gains and then some before settling in with an 8% loss. VXX also returned all its gains from Friday. Fittingly, the S&P 500 got back all its losses from Friday. T2108 did NOT recover its losses and "only" popped back to 84%.
The strangest aspect of this one day aberrant move in volatility was that the S&P 500 barely budged through it all. Neither the spike nor the plunge in volatility caused or accompanied large swings in the U.S. stock market. This whole episode looks like some kind of cognitive dissonance on one side of the fence, but I am not sure which! I was only able to profit from the plunge in VXX because I bought puts in combination with my bearish play on Google's stock (GOOG). Needless to say, those puts were a Pyrrhic victory, especially as my VXX shares got hammered.
Anyway, T2108 is now in "rocket fuel" overbought territory. Only 7% of all overbought periods have lasted longer than this one. The top 4% lasted at least 45 days. This overbought period is the 11th longest in duration since 1986. No overbought period that has lasted as long as this one has ever ended with a net loss. Moreover, after 32 days in duration, no overbought period has ended with less than a 5% net gain. This one has gained 5.9% so far. In other words, I expect more gains for the S&P 500 going forward before this overbought period peaks.
Another way to think of near-term prospects is that Friday's volatility spike was like a last gasp of the bears. Without follow-through, I imagine what bears are left standing are flat out exhausted. We have seen little selling pressure all year, so if Friday's bumrush in volatility could not stir the pot much, what can, right?

Charts below are the latest snapshots of T2108 (and the S&P 500)
Refresh browser if the charts are the same as the last T2108 update.


Black line: T2108 (measured on the right); Green line: S&P 500 (for comparative purposes)

Weekly T2108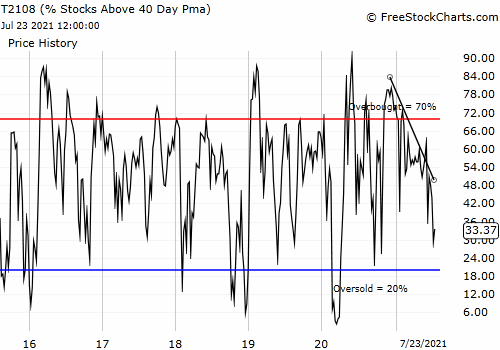 *All charts created using freestockcharts.com unless otherwise stated
Related links:
The T2108 Resource Page
Expanded daily chart of T2108 versus the S&P 500
Expanded weekly chart of T2108
Be careful out there!
Full disclosure: long SDS and VXX; long GOOG put spreads