(T2108 measures the percentage of stocks trading above their respective 40-day moving averages [DMAs]. To learn more about it, see my T2108 Resource Page. You can follow real-time T2108 commentary on twitter using the #T2108 hashtag. T2108-related trades and other trades are posted on twitter using the #120trade hashtag)
T2108 Status: 83% (overbought day #19)
VIX Status: 19.4
General (Short-term) Trading Call: Close more bullish positions, begin/expand bearish positions
Reference Charts (click for view of last 6 months from Stockcharts.com):S&P 500 or SPY
SDS (ProShares UltraShort S&P500)
U.S. Dollar Index (volatility index)
VIX (volatility index)
VXX (iPath S&P 500 VIX Short-Term Futures ETN)
EWG (iShares MSCI Germany Index Fund)
Commentary
Newsflash: the S&P 500 closed down for an unprecedented third day in a row. This kind of decline has not happened for the entire bounce off the December lows. This event probably qualifies as some kind of relative oversold condition given the T2108 overbought period has lasted an amazing 19 days so far. The S&P 500 has worked off overbought stochastics, and the index managed to bounce off the psychologically magic number of 1300. The buying almost seemed to happen in anticipation of an odd statistical quirk that applied at least amidst the selling between May and October of last year: Tuesdays far out-performed every other day of the week (see "The Tuesday Rally Lives"). And next we have the famous first of the month rally which seems to garner new explanations every year. In other words, there are several supporting catalysts for a short-term counterforce to the increasing burden of an over-extended overbought period.
Based on the Tuesday effect, I could not help myself. I bought a handful of calls on SSO, the ProShares Ultra S&P 500 as a real test. I call it one of the things to do while waiting for the overbought period to wear itself out (I wrote earlier about taking advantage of the market's current love affair with 2011's beaten up stocks). I intend to dump these calls first thing in the morning.
The chart below shows the unfolding action on the S&P 500. Again, note well the relatively low trading volume of this rally.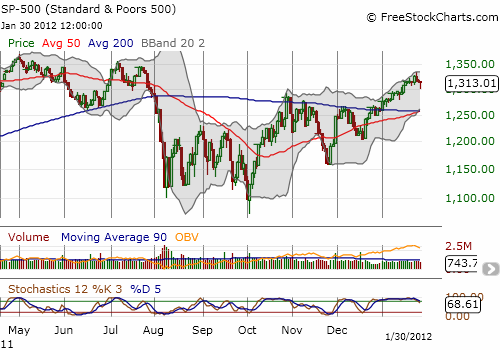 I have yet to add my last 25% of the bearish T2108 position. I suspect that time is coming soon. In the meantime, I will continue sniffing around for very short-term trades that take advantage of what the market IS doing right now. (These trades are not being included in the T2108 portfolio as they do not follow any T2108 rules. I am still planning on developing formal trading rules for overbought periods to build upon the tentative rules from last week).

Charts below are the latest snapshots of T2108 (and the S&P 500)
Refresh browser if the charts are the same as the last T2108 update.


Black line: T2108 (measured on the right); Green line: S&P 500 (for comparative purposes)

Weekly T2108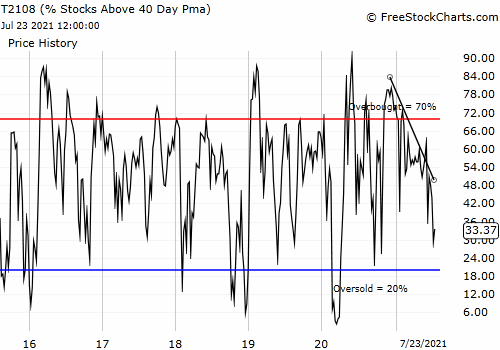 *All charts created using freestockcharts.com unless otherwise stated
Related links:
The T2108 Resource Page
Expanded daily chart of T2108 versus the S&P 500
Expanded weekly chart of T2108
Be careful out there!
Full disclosure: long SDS and VXX; long SSO calls