2011 has turned in to a tough year for rare earth producer Molycorp (MCP). After increasing almost 4 times in 2010 from its opening price, MCP has suffered a slow and steady decline since hitting all-time highs in early May. MCP is now down 44% for the year.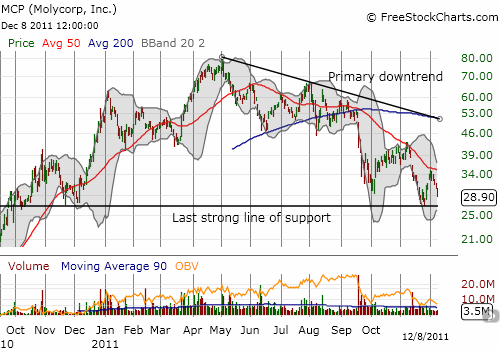 Source: FreeStockCharts.com
Molycorp's weakness comes on the heels of consistently bullish commentary from the company's CEO Mark Smith (for example see "Molycorp Delivers Strong Guidance Ahead of Earnings This Week" and/or "Molycorp Loses Big Despite Reporting Strong Earnings"). Part of the problem is that the market is fixated on weakening prices in rare earths. Last month, the NY Times reported on the sharp declines in rare earth prices. The most telling part of this article was the claim of production halts and an attempt to establish price floors:
"Many Chinese companies have halted production this autumn in a bid to stem the decline in prices, several executives said. The Chinese Commerce Ministry has also blocked companies from exporting at prices that it deems too low, setting a minimum price for cerium exports, for example, of $70 a kilogram."
Price controls are never a good sign, especially for a market that was red hot just a few months ago. China could end up further distorting the market for rare earths in unexpected ways. In the meantime, when we add in recent commentary from the Reserve Bank of Australia (RBA) that "trade in Asia is now…seeing some effects of a significant slowing in economic activity in Europe" and China's decision to cut reserve requirements, the market fundamentals for rare earth businesses weaken. A global slowdown in 2012 could be particularly destructive for companies like MCP in the middle of installing and expanding production capacity. The "good news" here is that valuable companies like Molycorp will likely be significantly undervalued and offer very compelling entry points to invest in a business that will rebound strongly from any future economic malaise.
I am sticking by my core position in MCP (and other rare earth companies), but I carry put protection as a part of the portfolio. I also tend to sell some calls on rallies.
Be careful out there!
Full disclosure: long MCP shares and puts; long and short MCP calls