(T2108 measures the percentage of stocks trading above their respective 40-day moving averages [DMAs]. To learn more about it, see my T2108 Resource Page. You can follow real-time T2108 commentary on twitter using the #T2108 hashtag.)
T2108 Status: 17% (Day #9 of the current oversold period).
VIX Status: 33
General (Short-term) Trading Call: Only add to bullish positions on dips. Hold any remaining bearish positions as small hedges.
Commentary
I got a little ahead of myself yesterday as I eagerly anticipated the end of this oversold period. Instead of a gap UP to conclude oversold conditions, the S&P 500 gapped down. The index ended the day down 1% while T2108 slid 2 percentage points to 17%. This is now the ninth day of oversold conditions, making it one of the longest since 1987. I suppose the length of this oversold period is consistent with its depth. (As a reminder, 80% of all oversold periods have ended within 9 days, 90% of all oversold periods have ended within 10 days).
I was so focused on the end of the oversold period that I neglected to note that a gap down would put the entire rally at risk with an abandoned baby top. Recall, that it was an abandoned baby top at the end of the last overbought period that marked the top for July. Many stocks had streaked fast the past three days and printed gaps in their wake. A subsequent gap down "traps" ALL the buyers who came to the party a little late, turning them from proud owners awaiting profits to anxious sellers sitting on instant losses.
I found at least two stocks that came very close to printing this extremely bearish pattern: Caterpillar (CAT) and Flowserve (FLS). Click the links for their charts and note the tell-tale three-day pattern: 1) up day, 2) next day gap up and trade within a tight range, 3) final day gap down. Every buyer on that second day may feel buyer's regret and will apply selling pressure as they look for a quick exit. Note that I own a call on FLS that I bought last week. Excluding my VXX plays, it is my last standing call option expiring on Friday. I was trying to hold out for more, but today's momentum killer all but killed my hope on that one!
Fortunately, the S&P 500 (or the SPY) did not print an abandoned baby, mainly thanks to a mid-day rally that brought the index flat with yesterday's high.
Regardless, I consider today a small setback that will not last. The oversold period seems to be coming to an imminent end. Please review yesterday's T2108 Update for my thoughts on how to trade once the oversold period ends and the overall risks that I see.

Charts below are the latest snapshots of T2108 (and the S&P 500)
Refresh browser if the charts are the same as the last T2108 update.


Daily T2108 vs the S&P 500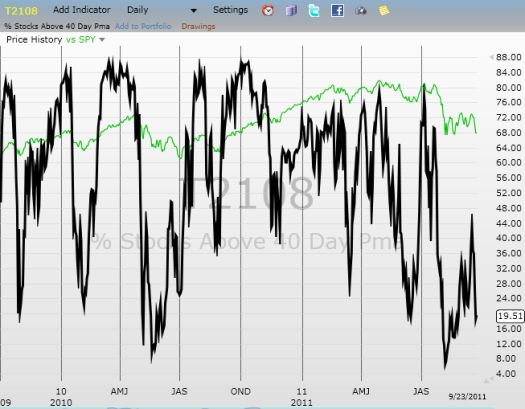 Black line: T2108 (measured on the right); Red line: S&P 500 (for comparative purposes)

Weekly T2108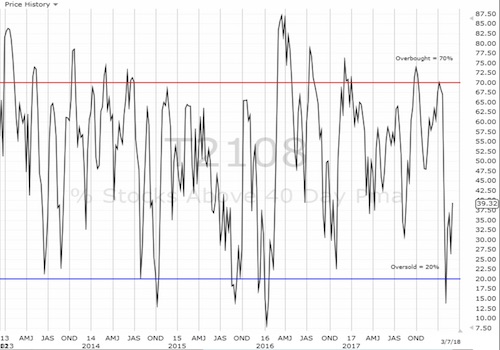 *All charts created using TeleChart:

Related links:
The T2108 Resource Page
Expanded daily chart of T2108 versus the S&P 500
Expanded weekly chart of T2108
Be careful out there!
Full disclosure: long shares and calls on SSO, long VXX puts, long FLS call.