(Click here for archived articles on RIMM)
Research in Motion (RIMM) has been able to buy back its shares under the current repurchase authority since July 11. The stock opened up that day and proceeded to close down 3.2%. The stock has drifted down 16.6% since then. During this time, I identified a technical pattern that suggested a big move was brewing. In three days, RIMM fell as much as 7.0% (not quite a big move), stabilized, and then resumed the sell-off. Through these three weeks there have only been a few occasions where intraday volume and trading indicated that repurchase activity could be happening. On Wednesday, August 3rd, a large surge at the open seemed to have all the markings of heavy buying that would accompany a repurchase action.
Sellers were quick to fade the uptick – as they have so successfully done for a long time now. In a flash, sellers pushed RIMM to fresh five-year lows. However, that day, RIMM was able to recover as the general market bounced sharply from new 2011 lows around 10:30am. The end result was a strong 4.9% close on the highest volume since the repurchase period began.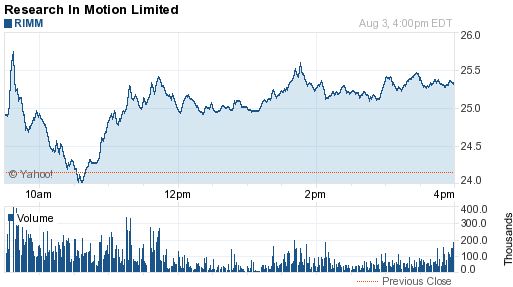 Source: Yahoo!Finance
Trading volume has remained strong: the three days ending the week represent the strongest trading volume since the aftermath of RIMM's post-earnings swoon in June. This action suggests a bottom may finally be forming, but the stock needs to either successfully retest a low and/or gain some upward momentum on strong buying volume. I am hopeful despite RIMM's long trail of tears only because the general stock market is now extremely oversold and due for a strong bounce. Accordingly, I sold my last set of puts on RIMM.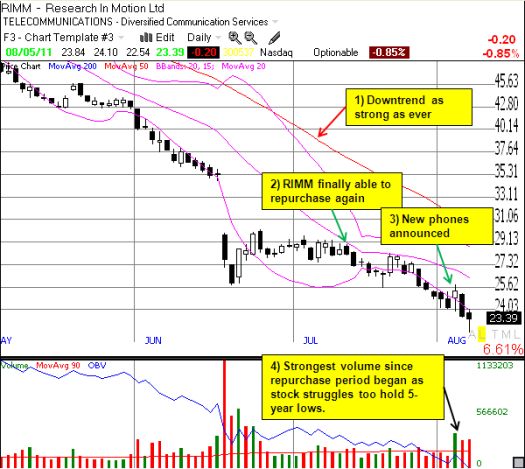 *Chart created using TeleChart

Wednesday's buying activity coincided with the much delayed release of RIMM's latest Blackberry 7OS smartphones: 2 new Blackberry Bold phones and 3 new Blackberry Torch phones. RIMM describes this roll-out as its "…largest global launch of BlackBerry smartphones in [its] history." It is certainly possible that all the buying was "I will wait until I see the news" enthusiasm; I have also speculated in the past that RIMM would buy shares in conjunction with a big news announcement. In any case, the trading action was a rare positive moment for the stock.
In between watching for signs of life in RIMM's repurchase program, I have duly noted other repurchase programs which have failed to support the targeted stock. Juniper Networks (JNPR) is a recent and disastrous example. On July 26, JNPR announced earnings and provided very disappointing guidance that sent the stock down 21% on the day to a new 52-week low. JNPR noted that it repurchased "…3.9 million shares in the second quarter of 2011, at an average price of $38.94 per share, or approximately $150 million dollars." Those shares are now worth just $87 million. In other words, a share repurchase program is no guarantee of short-term or long-term success. Tread carefully.
Be careful out there!
(Click here for archived articles on RIMM)
Full disclosure: long RIMM